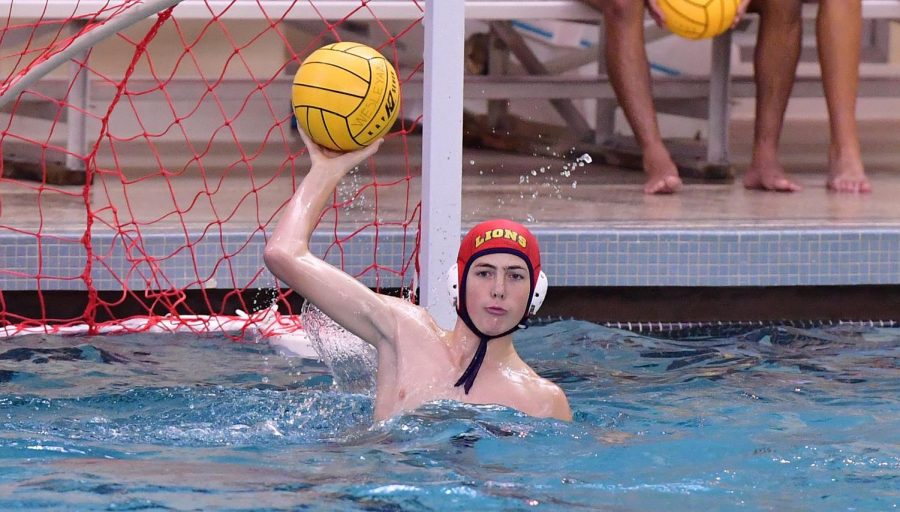 Friday night lights and Golden Lion football may get most of the attention in the fall, but one of the most successful teams at our school is actually one of the most low-profile on campus: the water polo team. While they're not officially recognized as a GHSA sport and are considered a club team, the program has been quietly racking up state titles and championships for several years. In fact, this hard working team hopes to win another state championship this year. 
This year's A Team consists of nine players: seniors Joe Williams and Sam Kennedy, junior Ian O'Hara, sophomores Kyle Knuth and Aiden Hess, freshman Jamie Chatfield, and three players from other schools. 
"The friendships make the team really close, and there's a strong family aspect that allows us to support each other," Hess said. 
Unlike many sports at St. Pius X, joining the water polo team doesn't require any experience at all. In fact, most of the current players decided to play without really knowing anything about it, and only having a summer swim team background. 
For example, when Williams was a freshman, he was reluctantly dragged to practice by former St. Pius student Sam Beckwith ('13). 
"I immediately fell in love with it and I couldn't wait to join the team," he said. "It's a sport that you can be thrown into and fall in love with. You just have to simply try it out, and most people are unclear of what it actually is."
Kennedy agreed. "People assume it's a lot like soccer, but underwater. But it's a mix of a ton of sports," he said. 
He went on to explain that water polo is a lot like football (you get tackled), baseball (you throw the ball pretty far), wrestling (you physically battle your opponent), and basketball (you have to pass and shoot the ball). 
The players know that it's an under-the-radar sport and doesn't get as much recognition as other sports. 
"We wish people knew it even exists. It's 100% harder than it looks," Williams said. 
 "There's a lot going on underwater that you don't see," sophomore Maxi Brogi added.
The team won state championships in 2007, 2009, 2010, 2012, and 2016, and they hope to bring hope another title this year. 
In addition to their team goal, they have individual goals as well. Hess said he wanted to score a helicopter shot, which is a type of backhanded goal.
Kennedy hoped to get a shutout but came up just short this season.
"The closest I got was allowing only one goal, unless you count the game where the team forfeited so we won 5-0 [the default forfeit score]," he said. 
The team will compete in theDivision 1 GHSWPA Championship tomorrow at the Cumming Aquatic Center, and they will wrap up their season with all-star games next week.
Kennedy encourages fans to come out and support the team because, "There's nothing quite like it and people should come and see what we can do."