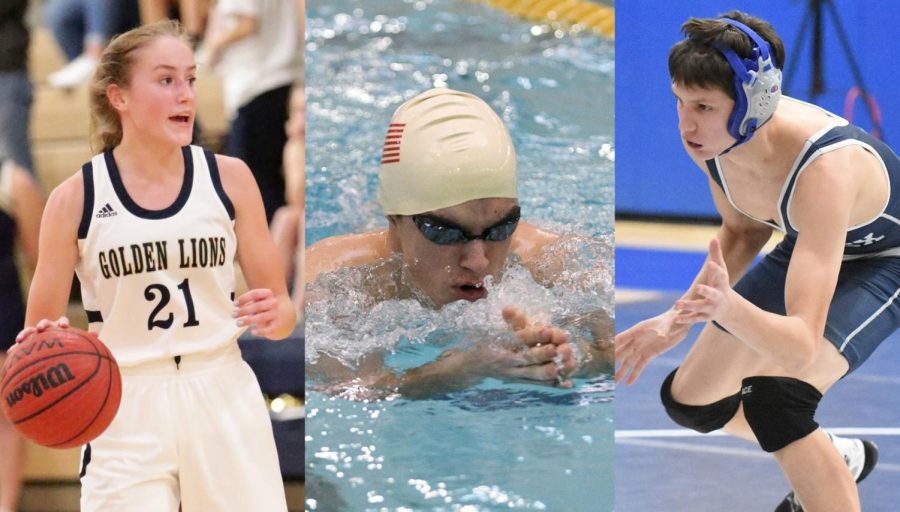 Temperatures are dropping and leaves are falling, which means that the Golden Lion winter sports teams are back in action. Read the following previews to learn what you can expect from our basketball, swim and dive, and wrestling programs.
Basketball
The basketball season tipped off for both varsity teams last night when they hosted Cherokee Bluff. Both teams won, the girls 44-20, and the boys 63-59.  
The boys' team lost nine seniors from last season, which means there will be a lot of new faces on this year's roster.  
"It will be fun to be able to start from scratch," head coach Aaron Parr said about the team's youth. "[We are looking forward to] the process of getting to know the team better, compete and showing them what it takes to win."
They'll look to the four seniors, Ellis Callaway, Nick Joiner, Tucker Kelly, and Asher Wagnon, to help provide leadership both on and off the court.
"Last year, we had several seniors that taught me how to win at the varsity level," Kelly said. "This year, we have a lot of inexperienced guys on the team and many of them are looking to me and the other seniors for leadership. I take the responsibility to make sure our guys are locked in during practice and games. Many of our players don't know how to win varsity games yet, but I think if this young team reaches its potential, we can beat any team in the state."
The Golden Lions have been dominant the past three seasons, which includes three region championships, two consecutive state runner-up titles, and an Elite Eight appearance.  This year's team knows it will be hard to match that type of success, but they're not doubting themselves.
"I think we'll do better than people think we [will],"  said sophomore Eamonn Kenah, who is one of four underclassmen on the team.
The girls' team is used to this type of inexperience because their roster has been predominantly made up of promising underclassmen the past few seasons. They lost two seniors from last year's team and feature only two seniors again this year, Lauren Natsch and Wylie Sheridan, but they're loaded with seven juniors who have seen plenty of playing time over the last two years.
Head coach Kyle Snipes said he's most excited to see "how the team develops its personality and develops camaraderie."
The players are also looking forward to the new season.
"I think we will do well with the new dynamics that we have formed over summer ball and pre-season," sophomore Kate McBride said. "The new people we have picked up will help improve the team and make us better."
Both teams will participate in tournaments during Thanksgiving break, and their next home games will be Tuesday, December 10 against Lovett.
Swim and Dive
"1, 2, 3, JUGULAR!"
The most aquatic of St. Pius X's student-athletes are ready to fight their way back to the top of the podium, just like they did last season with the boys bringing home a state title and the girls finishing as state runner-up. The two teams are currently undefeated, beating both the Marist School and Henry W. Grady High School earlier this month.
With excited seniors and promising underclassmen, senior Riley Hendrix said she's enthusiastic about the team. 
"I just love the way we're coming together. It's only been a few weeks, but I can really feel a bond forming. We're so cohesive and have such a nice mix of people!" Hendrix exclaimed. 
The dive team shares similar sentiments. 
"I wouldn't rather spend my last season diving with anyone else," senior Camile Jackson said. 
With a bright future for the swim and dive team, math teacher and assistant swim coach Mrs. Katie Stilson has towering ambitions for the team this year. 
"My major goal is for us to win state, obviously! I think that both our boys and girls could be legitimate contenders. But, my overall goal is to have everyone make personal bests and do the best that we can!" Coach Stilson said. 
Despite losing a hefty amount of "heavy hitters, future Olympians" and college athletes during last year's graduation, Coach Stilson thinks that the team has "a really good crop of swimmers, and everyone is developing well."
The swim and dive seniors definitely agree. 
"I think our current juniors and seniors can live up to the legacy that our graduates set, which will make us grow together as a team. They built a strong foundation for us," senior swimmer Gabe Brogi said, "but now it's our time to step into the leadership roles they've left."
"Even though we've lost valuable people, the season is definitely looking up," senior diver Jack Stockmeyer said. 
One secret to their success could be their unique team cheer. 
"Instead of saying '1, 2, 3, LIONS,' we say '1, 2, 3, JUGULAR,' because when a lion kills their prey, they go straight for the jugular," Brogi explained. "It's a fun tradition and gets us in the right mindset for the meet!"
They will face Greater Atlanta Christian School on Wednesday, December 5 and Lovett on Wednesday, December 13. 
"I'm so excited to see where the season takes us!" Jackson said. "I know we can handle our opponents."
Wrestling
This year's team is young with only one senior, Vincent Thomas. 
"I feel as if my previous three years have molded me into the leader I am now," Thomas said. "Last year we had three seniors, but they were not necessarily vocal leaders, so I kind of stepped up to the plate last year to speak up and help out the younger guys."
Despite their youth, they are still confident they can remain competitive this season. 
"I feel very good about the team this year," jusion Zani Patasin said. "Although we are a young team, we have a lot of kids who I think can develop into good wrestlers over time."
There are 11 freshmen on the team, so a lot of the work so far has been learning technique and basic knowledge about the sport. 
"So far, I feel pretty good about the team," freshman Benjamin Freeman said. "The older guys and coaches have been very helpful in getting people to learn technique."
Wrestling practice is tough and consists of many grueling workouts over the span of two and a half hours. Although these practices are hard, the wrestlers know that it's helping to strengthen and prepare them for their matches. 
"Wrestling practice is unlike any other practice you will have in any other sport, and over time the practices have a significant impact on your body," Patasin said. 
In addition to workouts, training for wrestling also includes paying meticulous attention to what you eat and cutting weight when necessary to meet the requirement for a weight class.
As junior Finn Shaw explained, "Practicing and watching what I eat is hard, but in the end, I know it's worth it."
"I have never really changed weight classes, but from watching my teammates do it I can tell you that it is killer on your body," junior wrestler Joel Chatfield said.
The next match for the Golden Lions is a tournament on Saturday, November 23 at North Hall, and  they'll host the St. Pius X Turkey Duals over Thanksgiving break on Wednesday, November 27.