SoulCycle: Why some students can't get enough of this fitness craze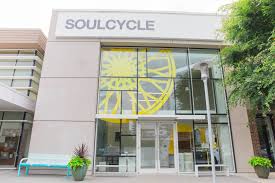 The past couple of months, my Snapchat and Instagram feed has been flooded with pictures of my fellow classmates attending indoor cycling studios, most notably, SoulCycle. I was confused to say the least. As a fan of frequent outdoor bike rides, I didn't see the appeal of paying money to bike indoors when you could simply buy a bike then use it whenever you want. To better understand the hype behind SoulCycle, I researched the new exercise craze and interviewed some students who are known for their involvement. 
SoulCycle studios offer 45-minute classes that consist of cycling, light weights, and fun music for $30, and first-time participants pay only $20. 
According to senior Nicole Gresham, SoulCycle is a full workout, and it's easier to get through than a workout on your own.
"The instructors encourage you to keep pushing through the exercise and walk around the room to compliment participants," Gresham said. "Everything is super personalized so you're motivated to work your hardest."
Seniors Parker Timmons and Santana Williams agreed with Gresham and emphasized the personal aspect of the classes. 
"The more you go, the more you feel like you're part of a community," Timmons said.
 "It's a very inclusive environment for all," Williams added. 
Senior Katharine Thomas said that "You'll see lots of different people in one class. A younger mom will be cycling next to an older couple and behind them are people your age."
The indoor biking movement has made its mark on Atlanta, and not just with SoulCycle. Other indoor cycling studios, like Burn and FlyWheel, have also gained a following, however, SoulCycle seems to be the most popular choice.
According to Gresham and Timmons, the reason is SoulCycle's relaxed atmosphere. 
"Other places [indoor cycling studios] like Burn have races and a scoreboard at the front of the room to see who's going the fastest," Gresham explained. 
Timmons added that "Flywheel's leaderboard makes their studio too competitive or judgey for some participants," whereas "SoulCycle is just chill."
Gresham, Timmons, and Williams all agreed that the biggest downside of SoulCycle is the price, noting that $30 a class does add up pretty quickly.
"I look at it like a treat," Williams said. "I go every once in a while, but not too often." 
Since it can put a dent in your bank account, going to SoulCycle with friends occasionally is the more economic option, and it's also a fun way to start healthy traditions with friends. 
"If you have some extra spending money then it's definitely worth trying at least once," Gresham said.
Timmons agreed and described SoulCycle as "more of an experience than a workout." 
After interviewing some SoulCycle regulars, I've gathered that the overall opinion can be summed up by Gresham: "It's an expensive habit, but it's a fun indulgence to do with your friends that boosts your motivation." 
The consensus among participants is that it is indeed "good for the soul," just as the name suggests.