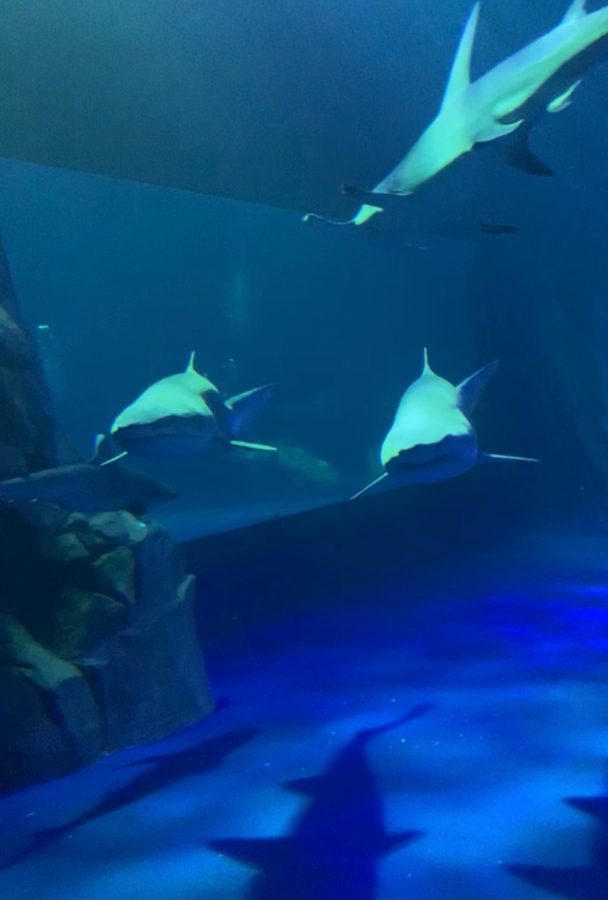 Staff photo
Looking for something to do in your free time? Well, the Georgia Aquarium is now open and bigger than ever!
After two years of planning and construction, the aquarium just opened its newest exhibit, "Sharks! Predators of the Deep" along with a new entrance, gift shop, and updated exhibits. 
This exhibit contains 1.2 million gallons of water with five different species of shark–great hammerheads, silver tips, sand tigers, silky sharks–and is the only aquarium in the United States to house tiger sharks. Visitors without this interaction can still get an up-close view of these sharks inside of the gallery with its floor-to-ceiling acrylic windows. 
The aquarium hopes to enlighten guests about these misunderstood animals by providing a dynamic and immersive gallery to get face-to-face with these amazing creatures.
Next year, they plan to open their newest interactions, cage diving, and a shark and ray interaction. By providing this opportunity for people to get up close with sharks, they hope to turn their fear into excitement and interest in the species. 
The Georgia Aquarium also remodeled its entrance so that as guests arrive, there's a new photo experience with a 21 x 10-foot video screen, which is followed by a greeting by hundreds of jellies in a new habitat. Along with the new entrance, the gift shop was also updated and stocked with new shark merchandise. 
Their "Tropical Diver" exhibit was also remodeled with a new volcano theme that features new species such as lionfish, jellies, and various moray eels. A crawl tunnel will be added soon as well, giving visitors an even more unique and up-close experience.  
While at the aquarium, you can also visit Shila, the beluga calf who was born in May. She is now six months old and over 400 pounds. She loves swimming around with her mom, Whisper, and making bubble rings under the water. 
Guests must make advanced reservations online. Temperatures are taken upon arrival, and masks are required at all times. To learn more, visit the Georgia Aquariums website.