Swim and dive wrecks softball field to build a pool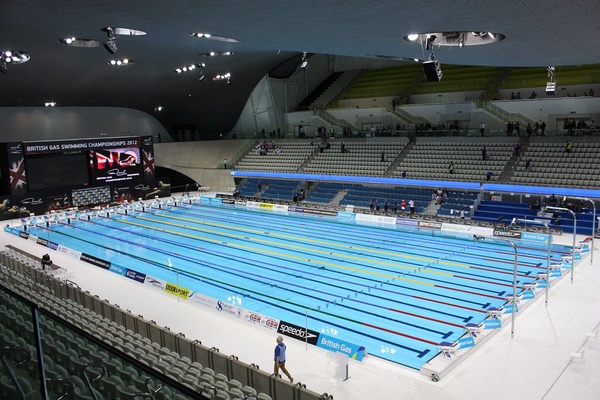 The swim team has breaking news. Following a long meeting with St. Pius X softball coach Amie McDougal, Coach Scott Carter and Ms. Katie Stilson have poached the softball field land to build a swimming pool. 
Coach McDougal reportedly accepted an under-the-table wad of cash from the coaches and signed over the field to be torn apart to build a new pool. 
But where did the swim team get these extravagant funds?
Reportedly, parents and students have been saving for years trying to buy the softball team out, but they have finally reached their goal by selling their cars and houses among other things. 
Coach Carter was ecstatic. He was reported to be skipping around the building with glee while holding the plans for the new pool, which will accommodate the swimming, diving, and water polo teams. 
When asked how they would build this elaborate structure, he responded, "The athletes of course. It will be great conditioning for them; cinder blocks are excellent alternatives for weight training." 
Coach Stilson was just as excited for her kiddos and hopes that the project will be completed before the next season. 
"Dynamo just doesn't work for us anymore. We hope our new facilities will even surpass the Olympic-grade Georgia Tech Aquatic Center,"  Coach Stilson said. 
Sophomore Colin Wright and freshman Zach Sutter agreed that the pool will benefit the team and will make them stronger competitors.
When asked if they felt bad replacing the softball team the pair said, "We have won more championships. Didn't they just lose state?" 
Sophomore diver Julia Herring explained how the lack of space impacts the training schedule. "The team dives at the Marist pool, but around football season, the rivalries heighten which means the pool always seems to have a few fewer time openings," she said. 
In its 64-year history , St. Pius has never had a swimming pool. There was never the money or space for such a building, and this is all about to change. 
But what about the softball team? 
The softball players are reportedly livid that Coach McDougal accepted this bribe. They assembled angrily in McDougal's classroom to discuss these matters, and no one seemed to be happy. 
Sophomore Ava Peebles said, "What the heck? Do they [the swim team] think they can just take our field? This is ridiculous." 
The team will reportedly practice on the baseball field which is insufficient for their training purposes. 
"I'm happy for the swim team," said junior Lola Frankowski, "I guess swim has joined football in getting everything that they want." 
The pool is expected to be complete before the 2021-2022 season, and the swim team is over the moon. The softball team on the other hand will just have to deal with it.