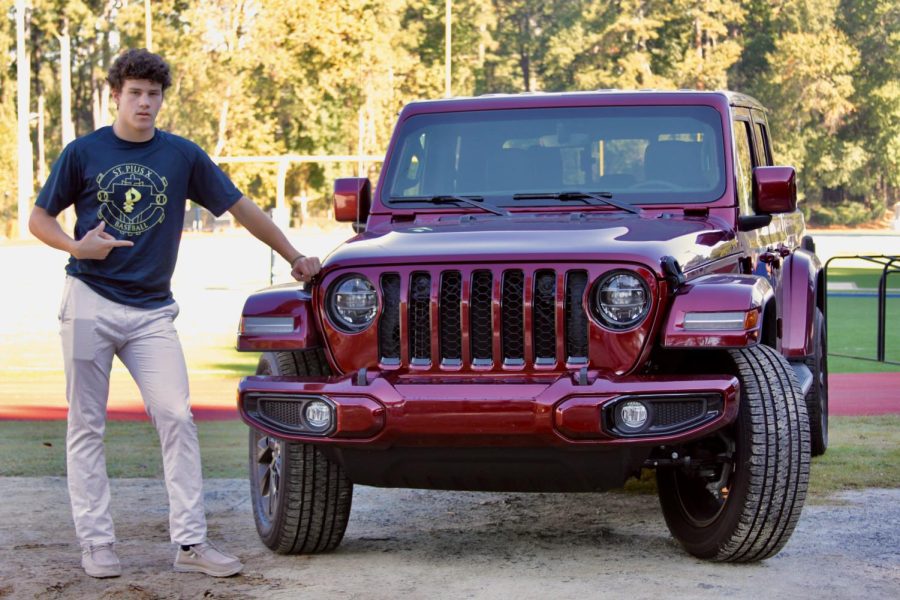 One of the trendier cars that you may see quite often on the roads right now as well as in the St. Pius X parking lots is the Jeep Wrangler. While there's no statistics to show that it's definitely the most common car on campus, it for sure is probably going to spark a conversation of some kind.  
According to MotorBiscuit, the Jeep Wrangler is "essentially a go-kart with air conditioning" and that they often score pretty low in various categories by Consumer Reports. So why, then, have they had such continued success in America over the past few decades? 
One of the more unique features of the Jeeps is that it's incredibly customizable. 
"It's an adult Lego, a car that you can build and make your very own," said Jeep owner senior Addie Newberry.
Most are familiar with its trademark look of removing the doors, but owners can also make a wide variety of modifications as well, such as adding a bumper, grab handles, floor liners, seat covers, a winch (a towing device), larger tires, a lift kit, a soft top, or a Power Top (a soft top that retracts automatically). 
"Ours is super lifted and has huge tires, and it also has thing on the front so if we get stuck in the mud, we can shoot it out to grab a tree so you can tow yourself out [a winch]," senior Margaret Muir said about her family's Jeep that they often use for off-roading and hunting. They most recently had to use the winch last summer when they got stuck in quicksand.
Sophomore Lucy Downer also had to use the winch on her family's Jeep.
"We went off-roading in Helen one day and had to pull someone out of a big water pond when they were stuck," she said. "My dad was so happy because he got to use the winch.
Because the Jeep community is so large and enthusiastic, they've formed their own sub-group in society. Introduce any two strangers at a party who both own a Jeep and by the end of the night they will have become best friends.
A well-known behavior within the Jeep community is the "Jeep Wave," which basically means that if a Jeep owner waves at you while you're riding in a Jeep, you wave back no matter what. According to one Jeep website, there's a variety of Jeep Wave styles, including a peace sign, raising up one finger from the steering wheel, or flashing a hang loose hand sign out the window.
"I like the Jeep wave because no other car community does it," said senior Meg Griffin.
Safety is an issue with any teenager driving a car, especially flying down the highway in a Jeep Wrangler without any doors or top. They've been known to perform poorly on safety tests in the past, but the 2021 model earned a "Good" rating, according to the Insurance Institute for Highway Safety. They're also known to have poor headlights.
"My parents will not let me take the doors off because of how vulnerable I am, as well as my belongings if I park somewhere," senior Kennedy Shannon said. 
Jeep Wrangler lovers are convinced the Jeep trend will never die. Only time will tell if they're correct, but don't expect them to be gone from the St. Pius parking lots anytime soon.