College applications: Should Early Decision even be a decision?
It's officially college application season, and stressed seniors can be found in and out of the counselor's office, crying in the bathrooms, or "sick" at home, desperately grinding out essay after essay. For some, this torture begins earlier than others – starting with Early Decision applications.
Early Decision is a binding contract reserved for your first-choice college. You can only apply to one college Early Decision (ED), and if you get in, you are required by a contract to attend. Sounds great, right? 
However, the biggest obstacle for many ED applicants is the unknown financial package. After signing the contract, you agree to attend and pay the tuition that you receive, regardless if it has met your needs. In addition, the accelerated timeline means testing and essays must be completed early, inhibiting many from applying. 
This inherently unfair system needs to change. 
Although I am applying ED, I certainly agree that it gives some advantages that others do not have. Most schools offering binding admissions are highly selective and extremely expensive, contributing to a classist divide of applicants applying and receiving admission ED. 
Look at the numbers. At universities around the United States, admissions rates for ED candidates tend to be significantly higher than those of early action and regular decision candidates at those respective schools. According to an article from the Cavalier, the College of William and Mary accepted 51.9% of ED applicants and 7.2% of those who applied regular. Those numbers were 24% and 9.2% respectively at Vanderbilt University and 26.9% and 7.2% at Northwestern University, meaning that admissions options play a significant role in whether or not applicants will find an acceptance letter in their mailbox come December.
But these admissions options aren't created equal, or equitably for that matter. According to Inside Higher Ed, the recent popularity of the Early Decision deadline combined with dropping admission rates has resulted in concern for lower and middle-class applicants. In response, colleges have expanded financial aid and become need-blind in admissions, meaning financial background will not be factored into the application process. 
However, I think that the best solution has been implemented in schools like Yale University, Princeton University, and Notre Dame University, which all have transitioned to a Restrictive Early Action (REA), also known as Single Choice Early Action (SCEA), enabling students to demonstrate that the University is their top choice without signing a binding contract. 
Because Early Decision does not welcome applicants from all backgrounds, I believe it should be replaced with the REA/SCEA program, which allows for greater opportunities for applicants that would not have the same chance under an Early Decision Program. 
So do other St. Pius seniors agree? 
For seniors Caroline and Elizabeth Hollensbe, applying ED has already paid off. Although they sacrificed a lot of time over the summer, the Hollensbes are one of the Class of 2020's few students already admitted to their dream school, Wake Forest University. 
"I think Early Decision helps you to get in because you show such interest. The school knows that you want to be there and they think that you're worth their time," Elizabeth said
"Early Decision is great for the people who want it. But if you can't afford it financially, it could make you less likely to get in," Caroline added.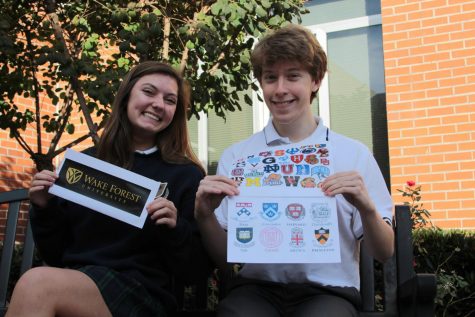 One student, who preferred to be unnamed, agreed that ED definitely helped in the admission process. 
"It's such a privilege to be able to apply Early Decision. I think it's a huge advantage because you're making a contracted decision to commit," she stated. 
Another anonymous student noted that while ED can be beneficial, the choice should be admonished completely. 
"Just because I've reaped the benefits doesn't mean that I'd want it to continue because while I definitely think it's in my best interest, I think that people should have the opportunity to hear early and not get a spot based on whether they can go agree to go somewhere regardless of scholarships," he explained. 
After asking opinions concerning the economic divide of ED, one anonymous student noted that minorities could be particularly disadvantaged. 
"I think that socioeconomically disadvantaged people, particularly communities of color, have been barred by financial barriers from doing ED, which means colleges are going to have a divide in racial equality at some super-selective schools," he said. 
Overall, since Early Decision puts some applicants at an obvious disadvantage primarily based on class, I do not believe that colleges should offer it. 
However, the majority of St. Pius seniors applying ED agreed that while the institutions have the potential to reinforce inequality between applicants, they are sticking to their decision. 
"I can't be blamed for acting in my best interest despite the possibility of injustice," one student asserted. 
Requiring game-like strategies for testing, deciding, and applying, navigating the college application process can be very stressful. Although it may be difficult to undo the trauma of college apps, college admissions very well have the potential to do away with the underbelly of classism and racism in the process.