Pius Players ready to take the stage with "Clue"
Classic murder mystery has a comedic twist that will leave audiences laughing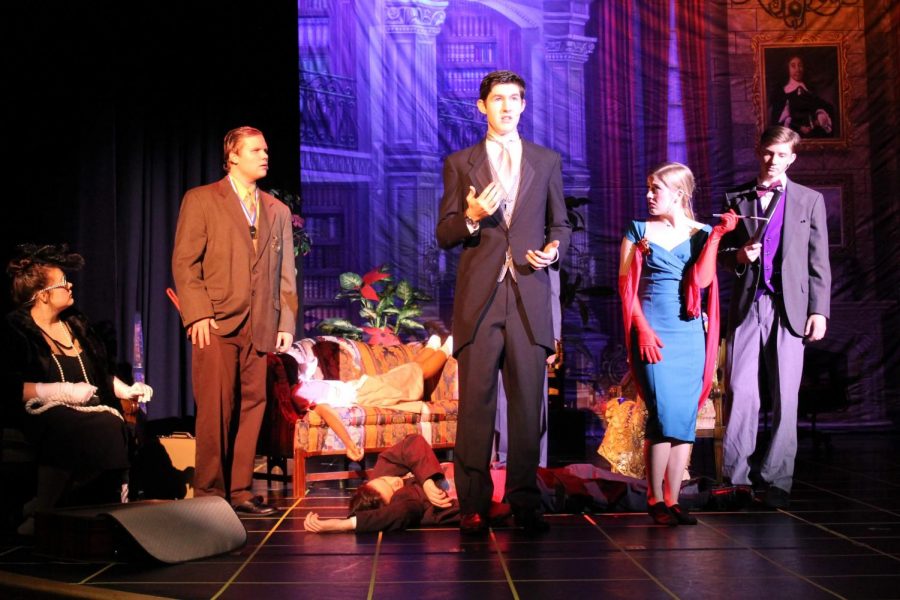 The Pius Players will open their fall play, "Clue," this Friday, October 18, and the show runs through Sunday, October 20. 
"Clue" is a comedic murder mystery based on the classic board game. Bringing wacky characters like Colonel Mustard and Mrs. Peacock to life on stage was an intense process that began months ago.
"The process is long, but it is cool to see the show slowly but surely come together," said senior Eric Sims, who plays Mr. Green. "As we [got] closer to the show, rehearsals [were] longer and [took] away time for homework and just free time in general."
Assistant director and Theology teacher Mrs. Lindsey Farrell agreed that it took an enormous time commitment from everyone involved in the production, including students, teachers, and parent volunteers.
"As teachers we use our planning periods, students will come in during their lunch, so any free moment we have we are working on the play," she said.
The classic detective game from Parker Brothers debuted in the 1940s and the movie version hit the big screen in 1985, but this was the first year that "Clue" was made available for high school theater programs.
"Last year we did a classic play 'Antigone' which is a great tragedy, so this year we wanted to do something a little more fun," Mrs. Farrell said. "It just came out this year as a high school production opportunity, which is why we picked it, to try it out."
Senior Daniel Buckley, who plays Mr. Boddy, said the show is full of comedic suspense that the audience is sure to love. 
"I won't spoil anything, but there are certain parts of the show that my character leads and actions he undertakes that I find funny and enjoy acting," he said.
With dozens of cast members, including 16 seniors, this is a show you won't want to miss. There are five opportunities to catch the Pius Players in action:
Friday, October 18 at 7pm; Saturday, October 19 at 2pm and 7pm; and Sunday, October 20 at 2pm. Tickets are $10, and each student receives one free ticket.