Crocs are making a comeback…make it stop!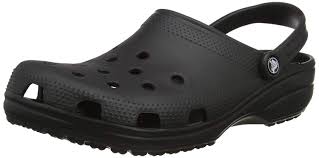 Many of you may have noticed the recent resurgence of Crocs. Making a comeback from the height of their popularity in the early 2000s, Crocs are slowly but surely becoming relevant again. Although the versatile rubber slipper is perfect for many occasions, the look is being abused. Very few people can make the look work, so we're here to personally campaign against the Crocs comeback. Make it stop!
Crocs are a risky fashion choice that's often executed very poorly. Strutting around in these stretchy clogs can only go one of two ways: you either totally rock it and leave heads turning in admiration, or you look like a dorky, outdated dad who's stuck in 2006. Sorry everyone, but most of you fall into this second category because you're clueless about how to rock a Croc.
Although we certainly don't recommend it, if you're interested in trying out the Crocs look we suggest getting tips from English department head Mr. Mike Scirocco.
Mr. Scirocco, sometimes referred to as Mr. SciCROCo, is one of the few who has mastered the art of the Croc. He understands all facets of the shoes and their appeal: Crocs provide the stable security people crave while still giving us freedom to move and test the boundaries of life.
A longtime Crocs enthusiast, Mr. Scirocco currently has seven pairs in his collection, most of them in neutral colors like gray, black, and charcoal. Why so many pairs? He claims that he gets attached to his Crocs and that when it's time to replace the old ones with a fresh new pair, he can't bring himself to throw them away.
Mr. Scirocco primarily wears them as leisure shoes around the house, noting that they're perfect for light housework, casual reading, or an informal family gathering around the dinner table. He cautions people against wearing them outside the house, however, emphasizing that the only suitable place to take them beyond your home is to the gym. Excellent advice, Mr. Scirocco.
If you don't feel comfortable getting advice from a man who owns seven pairs of Crocs, 1) we don't blame you, and 2) you can turn to senior Tucker Kelly for guidance instead. 
Kelly owns a holeless pair, which are slightly less painful to the eye because they look more like a classic clog. Kelly claims that the holeless Crocs will be the "new wave." I highly doubt this, but we'll see.
Crocs making a comeback should no longer be a topic of conversation. If they're so great, why did they even go away in the first place? Most of people in this world just don't have what it takes to pull off the look like Mr. Scirocco.
(Ok, to be completely honest with you, there's nothing wrong with owning a pair. Please just do us all a favor and don't wear them out of your house. )