Golden Lions bring home 3 trophies, 2 state championships in action-packed weekend
Cross country teams win state championships, volleyball captures state runner-up title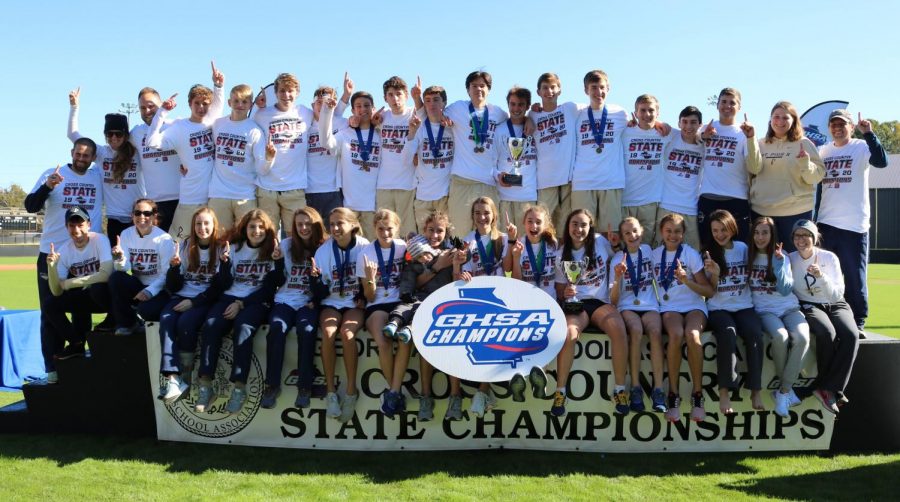 The boys' and girls' cross country teams captured state titles on Friday, November 1 in Carrollton, GA. It was the 11th state championship for the boys' program, their second in a row and 8th in the past 10 years. For the girls, it was their fourth in program history and first since 2012.
Leading the Golden Lions was senior Chad DeWitt, who finished third overall with a time of 16:49, followed by junior Patrick McDonald in eighth place with a time of 17:10. Sophomore Ryan Boyle (11th), senior Andrew Ryan (12th), junior Logan Wiley (14th), and junior Carter Scott (22nd) helped the team cruise to a dominating first-place finish. Denmark High School finished in second place, a massive 52 points behind St. Pius.
"Basically our motto this year was 'keep showing up,'" head coach Ryan McClay said in a post-race interview with Georgia MileSplit. "I'm really proud of them because they're a really fun group that took that to heart. They definitely went into the race nervous, but determined. I told them before the race to just have fun and run their race."
For the girls, senior UGA commit Morgan Vaden finished fourth overall with a time of 19:06. Juniors Catherine Breault (19:15.16) and Mary Brady (19:15.90)  finished less than one second apart in fifth and sixth place, respectively. Rounding out the field for the girls was freshman Hannah Schemmel (12th), freshman Grace Von Biberstein (18th), senior Aggie Brewster (21st), and junior Cala McEachron (25th).
The girls' race was much tighter than the boys', with only eight points separating the top three schools. St. Pius finished with 46 points, Blessed Trinity came in second with 50 points, and Marist, who were favorites to win after beating the Golden Lions three times earlier in the season, finished in third with 54 points.
"What a day," McClay said about the girls' race. "BT, Marist, and Oconee County [4th place] are amazing teams who could win almost any year. This has to be the best 4a race ever and featured maybe three of the best five teams in the history of the state. I hope people realize how special that race was and how talented all of those girls are. 
Both teams will next compete at the Meet of Champions on November 16 in Fayetteville, GA. 
After winning two state titles on Friday morning, St. Pius was hoping to add add one more first-place trophy to the list on Saturday afternoon when the volleyball team took on Blessed Trinity in the state championship match. The Golden Lions came up just short, though, losing in four sets to the Titans. It was their fifth state runner-up title in program history.