MarioKart Tour burns out in the App Store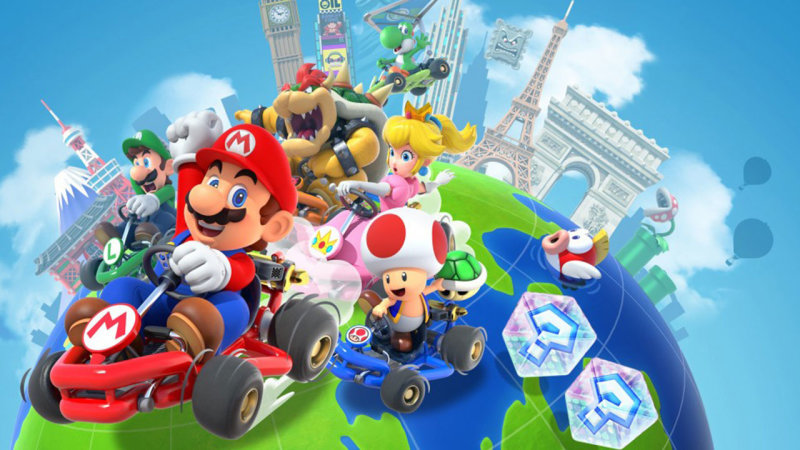 It's the final lap, and you've dodged bananas, shells, and obstacles the whole race. With the finish line in sight, you hear the disheartening whoosh of a blue shell knocking you out of first place. Finishing in second, you see テイタートットon the top of the podium. Which of your friends would be rude enough to dethrone you? More importantly, which of your friends is fluent in Japanese?
Oh, that's right, テイタートット is some computer-generated Bowser because the ability to race with your friends isn't yet available on MarioKart Tour.
With over ten million downloads on its first day, MarioKart Tour surpassed Pokemon Go in the record books of mobile gaming. The new single-player racing game may seem revolutionary but in actuality, it is far from flawless. 
"I don't understand the numbers. Everyone is a sheep," senior Mitchell Maloney said, dismissing the game's supremacy in the AppStore.
Heavily relying on the clout provided by its creator, Nintendo, the first edition of the MarioKart series to be playable as an app doesn't deliver much in its gameplay.
Flooded with in-app purchases, the game revolves around the premise of the more you play, the better you are. With gems, coins, and multiple other currencies, each player is tempted every minute of play. To upgrade abilities or unlock new courses, rubies can be purchased with real money, with prices ranging from $1.99 to $69.99 
In addition to gems and coins, most of the features that made MarioKart fun and exciting, such as colorful karts and creatively designed characters, cost a pretty penny; they're only accessible with the gold pass, a monthly $5.00 subscription.
"The gold pass is gross at best, price gouging at worst," senior Witt Hollensbe commented. "We should probably socialize the MarioKart game, treat it as a public utility I mean. What did we expect when we let big corporations like Nintendo start commercializing art?"
Hollensbe wasn't alone in his criticism. Racing computers rather than friends anger many OG gamers, as the original MarioKart game's key appeal to many consumers was its status as a multiplayer game.  MarioKart Wii turned a video gaming in your living room into a competitive event pitting friends and families against each other as shells are thrown and the rubber hits the Rainbow Road.
"It's not the same as the old days. I was nationally ranked and now I'm not even playing. That shows you how much I don't like it," Maloney added.
Maloney is not shy from voicing his opinions, however. 
"I waited for MarioKart to go mobile for two years and now it's not at all what I expected. I'm planning a march in DC and we're asking Trump to put trade sanctions on Japan until they fix it. Okay, not actually, but I just wish they would make the phone act as the steering wheel. Is that too much to ask?" Maloney pleaded. "I MEAN WALUIGI ISN'T EVEN IN IT"
Other students actually love the game, however.
"I think it's pretty fun. It is easy and relaxing as every race doesn't have to be a nailbiter," sophomore Claire Gannon said.
Races are only two laps, something different than the original game. Some love this, others, not so much. 
The game is already losing players daily as the hype surrounding the game is dying out. Eventually, the game will become irrelevant as all do, but due to drastic differences from its origin, probably sooner than expected.