Animal-loving students volunteer at Zoo Atlanta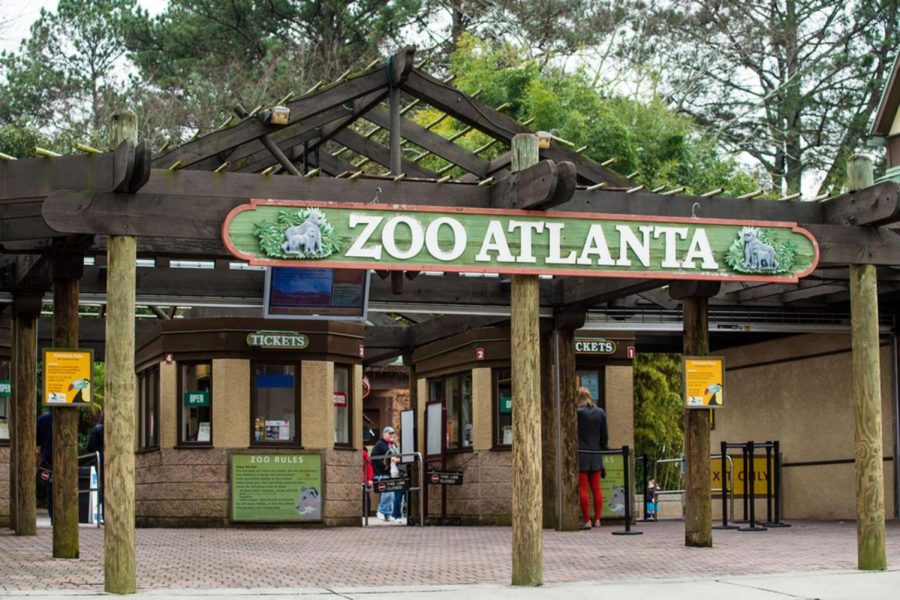 Two St. Pius X students have taken their love of animals to a whole new level. Senior Rosie Driscoll and freshman Cohen Horne are official volunteers at Zoo Atlanta and spend much of their free time enjoying everything this opportunity has to offer.
"During the school year, I volunteer two to three times a month, and during the summer a minimum of once a week," Driscoll said.
Horne doesn't go quite as often, but he expects his time to increase as he gets older.
"During the summer [I volunteer] three times a week and I go about three or four times during the school year," he said.
Because it's only his first year volunteering he's not allowed to work with specific animals yet, but that chance will come as he gains more experience.
"I just started so I'm kind of limited [restricted]," Horne said. "I work with the guests and talk to them about certain animals. During the summers I do [Safari] Camp. There's also the petting zoo that [I] can do. Most likely I'll do exhibit interpretation," he explained.
Driscoll, on the other hand, has volunteered at the zoo for three years and has moved up in the ranks to doing hands-on work with reptiles.
"I'm mainly in herpetology, so that's reptiles and amphibians," Driscoll said. "I do a lot of the feeding, cleaning, and setting up habitats [for them.] I administer the medications and take weights and just generally make sure that everything is looking good." 
Driscoll also sometimes does other jobs around the zoo, such as helping out with guest interactions, the summer Safari Camp for kids, and other special events.
"I like doing everything, but I'm most often in herpetology," she said.
"
Everyone is very much their own individual, but we're all united by our love of animals."
Although they don't get paid for their volunteer work, the extra perks, such as free admission to the Georgia Aquarium, is definitely a great benefit of the job. 
"You just say 'Hey, I'm going to the Aquarium this day,' and our boss says 'Okay cool, I'll tell them you're coming' and then they give us tickets," Driscoll said.
According to Horne and Driscoll, their favorite aspect of working at the zoo, though, is the different people they get to meet. 
"Everyone has different areas of knowledge," Driscoll said. "Like one of my favorite zookeepers wanted to be a forensic scientist but decided to switch to working with snakes. So it's like everyone is super unique. Everyone is very much their own individual, but we're all united by our love of animals."
Horne agreed.
"Similar to that, [my favorite part of volunteering is] guest interactions, like all the guests you meet. Talking to them is interesting. You can meet all types of people and [learn] their interests," he said before glancing at Rosie and adding, "Plus people you work with. They're all cool, too."
Both Driscoll and Horne want to continue working with zoos in the future.
"As I go to college I want to be an intern and eventually become a zookeeper [working with] mammals and carnivores," Horne said. 
Driscoll has a similar plan.
"Preferably I'd like to switch to an internship [once I'm in college] which would be the next step up," Driscoll said. "Eventually I'd like to be a zookeeper as my bridge job between [my internship and] when I can start research."
However, she didn't always have this plan for her future.
"I didn't [want to work with the zoo] before I started working there. I wanted to be a marine biologist when I first started, and then I was like 'This is amazing and I wanna work with African carnivores now,'" Driscoll said.
If you have the same passion for animals as Driscoll and Horne, you can learn more about the Zoo Atlanta volunteer program on their website.