'It's a sense of community within a community'
Through retreats and morning meetings, girls make new friends in Campus Ministry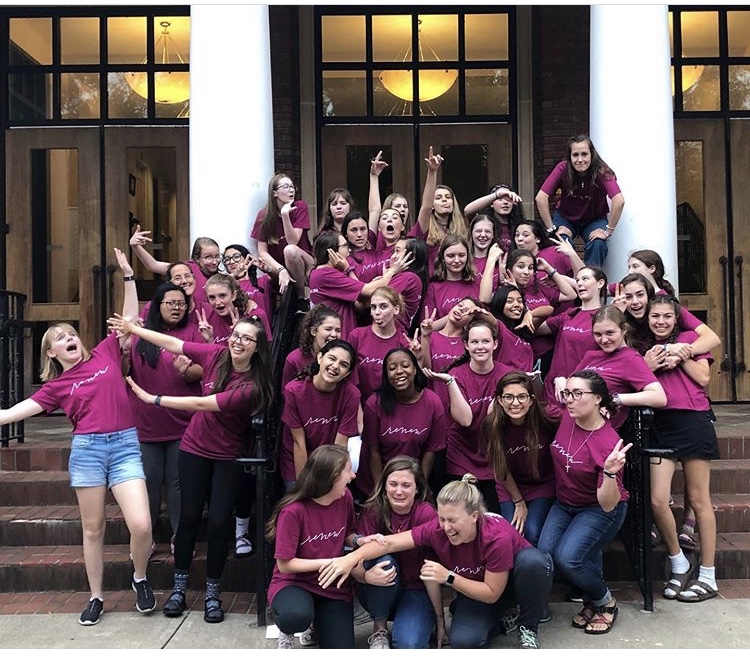 Campus Ministry is undoubtedly a staple of the St. Pius X campus. Whether it's all-school masses, the class pilgrimages, or the various service projects hosted throughout the school year, Campus Ministry does a lot for the student body on a large scale. It also provides a place for students looking for more involvement in faith based activities to share their thoughts with others. 
"I met a lot of friends I wouldn't have met otherwise," senior Caroline Knight said when talking about her involvement with Campus Ministry.
Knight, along with many other girls from all grade levels, participated in the second annual Girl's Retreat earlier this fall at Camp Hidden Lake, in Dahlonega. Unlike during the class pilgrimages, in which there is sometimes a lack of engagement because attendance is required, the retreat is a voluntary sign-up and provides an opportunity for girls to motivate each other and share in their faith. 
"The trip served as a perfect time to get away from the hustle and bustle of everyday life to enjoy nature and deepen our faith with God," senior Ana Maria Harp said.
The retreat consists of four or five talks in line with a particular theme, which this year was "renew." 
Knight, who was one of the key speakers this year, explained how "we can renew the way we see ourselves if we look at ourselves the way God sees us," essentially espousing that "God being our king makes us princesses."
In addition the Girl's Retreat and the Domini Summus retreat, which will take place on February 7-9, Campus Ministry also hosts in-house activities throughout the school year.
According to senior Carolynn Bui, "Girl's Discipleship meets on Thursdays once a month at 7:15 am [to the first bell]." 
Girl's Discipleship allows the opportunity to hang out in Campus Ministry and eat breakfast together, sometimes talking about faith and other times just about whatever is on their minds. 
It's "a sense of community within a community," Bui said. 
For those who can't make it to the monthly meetings, many visit Campus Ministry during their lunch period and other various times during the day.
"Even in a Catholic school, we're scared to talk about our faith sometimes and how much it means to us," Knight admitted.
Inside Campus Ministry, students like Knight can feel more comfortable talking about their faith and the role God plays in their lives than they might in a larger setting. But this doesn't mean that Campus Ministry is in any way exclusionary. 
Everyone is "always welcome in Campus Ministry regardless of belief," Bui said. 
Although some may feel like Campus Ministry is not for them based solely on the misconception that they talk about Jesus non-stop, the main goal of students like Knight and Bui is to spread love. 
"There's just been a lot of issues with people loving each other [recently]," Bui said, and that emphasizes the fact that it is "important for people to see that it's not hard to treat people kindly, because we are all worthy."
So consider stopping by Campus Ministry for Girl's Discipleship or signing up for the Domini Summus or Girl's Retreats next year. The greatest benefit of the retreats and spending time in Campus Ministry is building new friendships with people who otherwise might not cross paths.