All roads lead to the….Roar Store?
The most popular place on campus is the Roar Store, the perfect one-stop shop for teenagers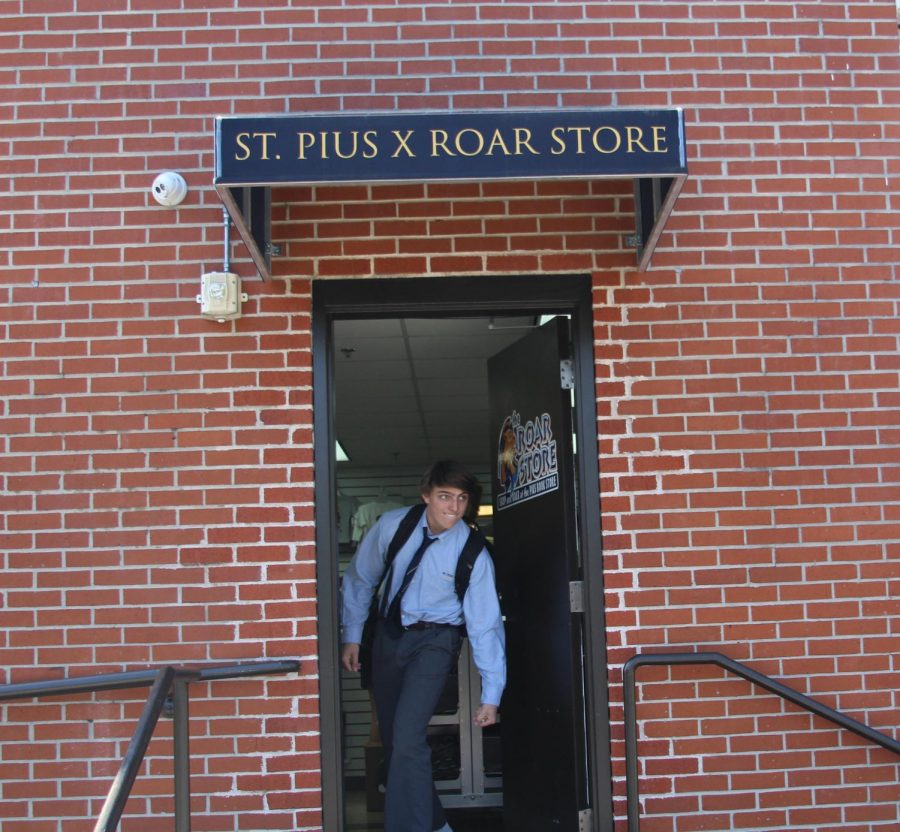 Whether it's a quick snack, breakfast, or a pencil, the Roar Store always comes in handy to supply the student body with whatever they need to get through the day. Between busy schedules and long days at school, Mrs. Sally King and her staff happily serve students every period.
The campus bookstore has existed for decades, but it mostly sold just textbooks and a few uniform pieces. It wasn't until 2005 that it evolved into what we now call the Roar Store, when a major construction project added 10,000 of additional space to the main building. 
There's a lot that goes on behind the scenes to keep the Roar Store up and running. 
"Food, inventory, sales… there's all sorts of things we have to do on a weekly and monthly basis," Mrs. King explained. 
Food and drinks are some of the more popular items among students, but the Roar Store also sells things like cough drops, face stickers, rings, chapstick, SPX ornaments, and Golden Lion fan gear. 
The busiest times of the day are the lunch periods, before school, and after school. It can get packed, and the line often stretches out the door. 
"There's A LOT of repeat kids that come in and out of here," Mrs. King said, adding that "The most popular items are Sour Patch Watermelon, Jolly Rancher Chews, and Little Bites."  She said they go through about two 24-count boxes of Sour Patch Watermelon a day. 
 Junior Maddie Cast is one of these candy consumers. She said she goes to the Roar Store on average a whopping five times a day.
"Honestly, it's a habit I can't break," Cast admitted.
Cast isn't alone with her candy habit.
"I like to think Reese's [Peanut Butter Cups] are my protein for the day, so I tend to get a couple a day just to be safe," senior Maggie Braswell said.
As a swimmer, senior Riley Hendrix couldn't agree more.
"Honestly, the Roar Store allows me access to nutritional bars such as Cliff and Builder Bars, but sometimes I sneak in a Kit Kat," she said. "Without the Roar Store, I wouldn't get through any practices."
In addition to sugary snacks, the Roar Store is also the perfect go-to place to pick up other essential items students may need throughout the day.
"One day I forgot my tie and realized I was going to get a detention," senior Nicolas Robinson explained. "Then I ran to the Roar Store and luckily I was able to borrow one. That was a game changer. . .Thanks Mrs. King."
"My most useful visit was when it was one of my best friend's birthday and I forgot her gift at home, [so] I just went to Roar Store and bought a card and lots of her favorite candies," junior Mary Parker Lynch said. "I am pretty sure everyone has done this."
Everyone can agree the Roar Store satisfies all our cravings and needs, but perhaps it's most alluring feature is that students don't need any cash or credit cards to purchase items
"It's so quick and easy to charge things to my FACTS account when I'm on the go," senior Francesca Walker said. 
This means that mom and dad may be surprised with a hefty bill at the end of the month, but some students like to live on the wild side.
Junior RJ Brewster, for example, found out the hard way that he was better off using cash.
"During the first week of freshman year, I was so excited to try out the classic Roar Store. Some could say I went overboard by spending $50 in my first week. My parents reacted with grounding me and making me pay twice as much as I spent, " Brewster said. 
For a last-minute uniform buy, a water before practice, or just satisfying your sweet tooth, the Roar Store is a special place. 
"It's like a second home for me this year and I don't know what I would do without it," sophomore Adeline Moody said. "I really just enjoy food at this point."