bts는 spx 학생들의 마음을 가지고 있다
BTS captures the hearts of SPX students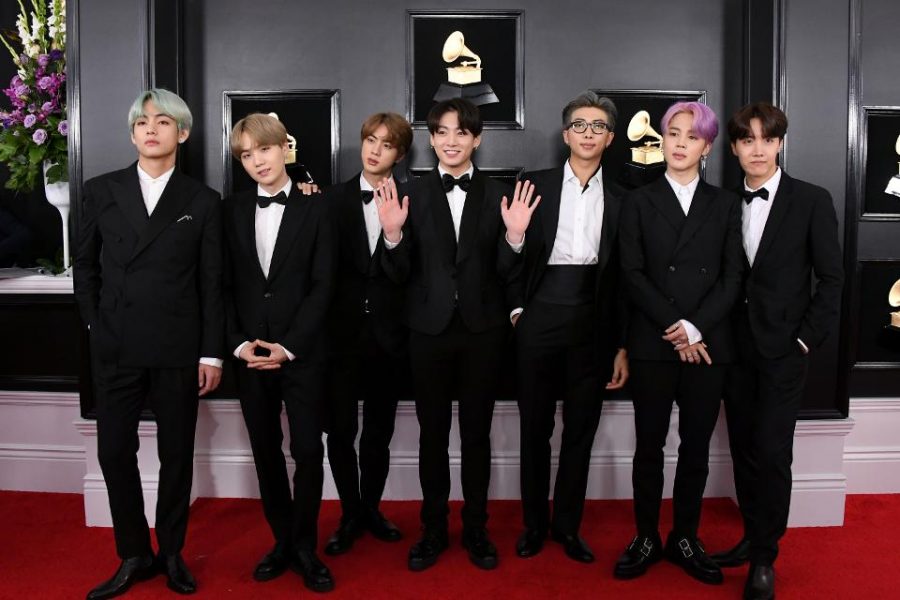 From emerging as just one of South Korea's many boy bands to now being compared to a second coming of the Beatles, BTS, the biggest K-pop group in the world, is making waves even at St. Pius X.
Known by their industry crafted nicknames, the band is comprised of seven members: Jin, Suga, RM, J-Hope, V, Jimin, and Jungkook, their "golden maknae," a term used for the youngest member in K-pop groups.
BTS stands for "bangtan sonyeondan," literally meaning Bulletproof Boy Scouts. They made their debut in 2013 but didn't gain popularity in America until 2017 when they won Billboard's Top Social Artist award.
"I went to the Billboard Music Awards that year and when BTS won, the fans went crazy. It was so loud," junior Maggie Coveny said. 
BTS also attended and performed at this year's Grammy Awards, making them the first K-pop boy group to attend this award show. They performed "Old Town Road" with Billy Ray Cyrus, Lil Nas X, and Mason Ramsey.
Their fans are known as The Army, and there's plenty of them here at St. Pius.
"I stan other groups like Blackpink and Twice, but they don't have the same concept as BTS. They don't write their lyrics as personally," junior Riley Davey said. 
One reason for their popularity is that they choose to reference social issues, and they state that their desire is "to block out stereotypes, criticisms, and expectations that aim on adolescents like bullets."
"BTS has gotten me through so much. Their music is the reason I am who I am today," junior Abby Loges said. "Their music just hits differently because they are telling you to love yourself."
They made the international cover of TIME magazine in 2018, where they were crowned the "Next Generation Leaders," and in a speech delivered at the United Nations Assembly, their leader, RM, said:  "No matter who you are or where you're from…speak yourself."
You can catch BTS in concert on May 17 at Georgia Tech's Bobby Dodd Stadium.