Spring musical "Oklahoma!" opens tonight
Pius Players excited for Ms. Spark's "last hurrah"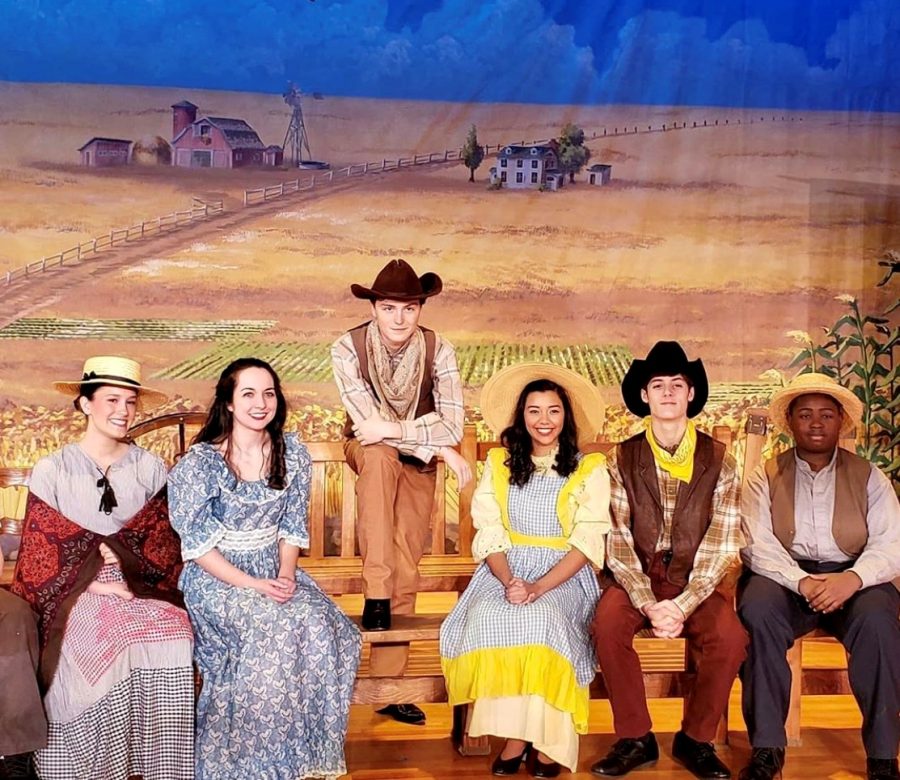 The Pius Players spring musical "Oklahoma!" opens Thursday, March 5 and will run through Sunday, March 8. 
First performed on Broadway in 1943, Rodgers and Hammerstein's "Oklahoma!" was an instant hit. The musical is set in a small town in the countryside in 1906, and it explores the love triangle between a farm girl named Laurey and her two rival suitors: Curly, a cowboy, and Jud, a farmer. 
Pius Players Director Ms. Bonnie Spark, who will retire in May after 39 years at St. Pius X, gave a thorough rundown of the intense preparation the cast has gone through to make the production as "fabulous" as possible. 
As opening night got closer, practices started to run longer and weekends were full of nothing but rehearsals as the students worked on perfecting every aspect of the show.
"There's no time for stopping," Ms. Spark said.  "They've just gotta keep moving. If you forget a line, improvise."
She went on to rave about how much she adores the cast this year, saying that they are "very talented, charming, and committed."
In her almost four decades of working at St. Pius, Ms. Spark said that "Oklahoma!" is definitely near the top of her list of favorite musicals that she's done, and she's hopeful that this "feel-good type show" will attract a large crowd this weekend. 
Senior Kate Jones is equally as excited about the musical, 
"There's a lot more to it than what you think," she said.
According to Jones, the plot is slightly confusing but juniors and seniors in AP English should easily be able to catch on if they remember reading "O Pioneers!" 
Senior Claire Tranior described the show as "so ridiculous… but totally amazing!"
Showtimes are Thursday, March 5-Saturday March 7 at 7:00 pm, and Sunday, March 8 at 2 pm. Tickets are available at all lunch periods, and each student receives one free ticket.