A golden lion's best friend
Three service dogs provide comfort and laughter to the St. Pius X community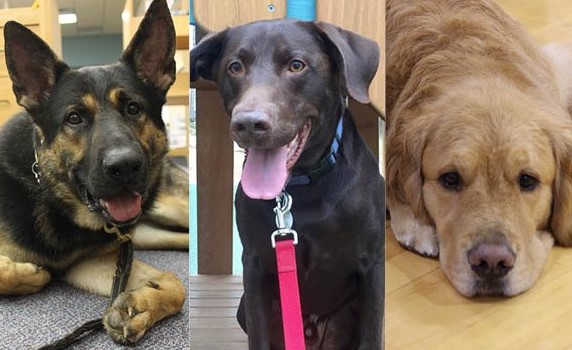 Most students arrive at St. Pius X with a backpack, a laptop and a few folders and books, but for librarian assistant Mrs. Cynthia Matullo, theology teacher Mr. JT Gilbert, and senior Liz Pentecost, no accessory is more essential to bring onto campus than their service dogs: Memphis, Grizzly and Stevie Ray.
Perhaps the only boys at St. Pius who can get away with hair past their ears, these furry friends help their owners with a variety of tasks.
Memphis 
Memphis, a 107-pound German Shepherd often mistaken for a police dog, uses his keen nose to assist his owner, Mrs. Matullo, as a diabetic alert dog.
"That means he can detect when my blood sugar goes higher or lower," Mrs. Matullo explained. "When your blood sugar goes up, your breath gets sweeter and he can smell it. He alerts by throwing a paw at me.
"I've been a diabetic for 35 years, and I have a sensor on my watch that tells me what my blood sugar is all the time—it's at 142 [milligrams per deciliter] right now," she said, glancing at her Apple Watch. "But I wanted more security, and they say the dogs can smell the scent before you see it on the sensor." 
While he shares a name with a city in western Tennessee, Memphis is more international than you might think. He was born in France, and his original trainer found him living with a family in Amsterdam.
He was in intensive training for a year and then spent every other month out of the house with his most recent trainer, Jen.
Even after long-term professional instruction, Memphis' training "is never fully over," Mrs. Matullo said. She slips him treats to reinforce good behaviors and goes out of the way to teach him new skills.
"
At the end of the day, he'll go to the garbage cans and grunge out. And he likes to eat French fries in the cafeteria."
— Mrs. Matullo
"We've done agility [training] with him, which was a lot of fun, and he was really good at it. That's where you jump over the hurdles and maneuver through the tunnels, so he does some of that at home. I'll set up jumps for him," Mrs. Matullo said.
While students often see Memphis gently resting behind the Reference Desk in the library, his owner notes that his docile performance at school is the "exact opposite" of his "hyper" behavior when he's off the clock.
"He loves to chase a ball. That's kind of like his reward at the end of the day. Before work, I take him to the back of the yard and throw the ball with him. Twenty-two hours of the day, he's with me. At night he'll sleep in my room, but he'll sometimes go into the hall," Mrs. Matullo noted.
Sometimes, this free spirit comes out in the halls.
"He barked at Stevie Ray, [Liz Pentecost's service dog]; it was very scary and bad on his part," Mrs. Matullo laughed. "At the end of the day, he'll go to the garbage cans and grunge out. And he likes to eat French fries in the cafeteria."
Even though Mrs. Matullo has many diabetic friends and family members, no one that she knows has a diabetic alert dog.
"Mostly because it's really expensive and to be honest, it can be kind of a pain. If you're going into a store, it's like taking a toddler with you everywhere," she noted. "And the comments I get from people are crazy. It's like 'Look mom there's a dog. There's a dog in school.' He's not going to eat you, he's just a diabetic alert dog," she explained.  
"Typically, I'll just be like 'no, no' if people in public try to pet him. The most difficult thing is honestly when it's with little kids. You don't know what's going to happen so you want to make sure to keep kids away, just in case," Mrs. Matullo said. 
Grizzly 
If you've been in theology teacher Mr. JT Gilbert's classroom, you might have noticed another unusually shaggy occupant: his emotional support dog Grizzly.
While Grizzly brightens his owner's day, Mr. Gilbert noted that he has a calming effect on his students as well.
"He especially helps kids that could benefit from having more friends. He's really bonded with many of my students and can turn a day around. Not to mention, he really knows how to give a hug," the dog lover explained.
However, Mr. Gilbert takes special steps to regulate his five-year-old Chocolate Lab's behavior.
"I don't let people pet him in a large group setting because then he gets off task easily," Mr. Gilbert said. "During the day, he rests under my desk and every once and awhile we'll play the laser pointer game to get his energy out. Then, he is constantly looking for food from students."
He described Grizzly as "a goat," who "will eat anything because his appetite is insatiable."
He can be sneaky, too, when he's on the hunt for his next snack. 
Mr. Gilbert explained that one time, "I was sitting and talking to Ms. Curlette with a  sandwich in my hand. I was facing her and had my hand off to the side holding the food. All of a sudden, Grizzly snuck around the table and gently snatched it right out of my fingers. He got the last three bites and I just stared at him. I was like… are you serious?" 
Then, a few years ago at Christmas, Mr. Gilbert's fiance, journalism teacher Ms. Ashley Curlette, and her daughter Emily watched Grizzly at their house while he was out of town for the holidays. 
"My daughter was four at the time, and that morning we had just hung up an ornament on the Christmas tree that she made in preschool out of homemade dough, or something like that. It was a cute little tree painted green and gold," Ms. Curlette explained. "As soon as Grizzly got to the house, he must've smelled it because he went right over and ate it, including the red ribbon used to hang it up,"
Another favorite story of hers is the time he got a little too picky about the table scraps she gave him.
"
Grizzly is a fast learner. For example, I can say 'classroom,' and he'll go straight to the class, or 'kennel,' and he'll go straight under my desk. When the bell rings, he goes into his crate."
— Mr. Gilbert
"Grizzly loves hanging out in the kitchen when I pack Emily's lunch for school the next day. He comes running over as soon as I get the bread out to make a peanut butter and jelly sandwich. I always cut the crust off and I'll usually toss it to him," she said.
"But one day my daughter decided she didn't want jelly on her sandwich, just the peanut butter. When I gave the crust to Grizzly, he kind of mouthed it and then spit it out. He looked up at me like he was expecting something more. I figured out it's because there wasn't any jelly on it!" she exclaimed. "For a supposedly tough hunting dog, he sure can be a diva sometimes."
And Grizzly can be particular ("high maintenance," according to Ms. Curlette) about more than just what he eats. 
"He won't let anyone else ride in the passenger seat," Mr. Gilbert said. "If I have Ms. Curlette sitting in the passenger seat, he's not happy. He'll whine and try to nudge his way up front. He has more room in the back to stretch out but always likes looking out the front window to see what's going on."
Despite their occasional battles, it's safe to say that he has a special bond with Ms. Curlette. 
"He can definitely sense when she's coming," Mr. Gilbert explained. "When she comes to my room and reaches the water fountain just before Mrs. Collier's room, Grizzly can immediately sense her. I don't know whether it's a smell or a sound, but he knows that she's coming and gets excited."
Together with his loving yet persnickety nature, Grizzly harbors an impressive intellect.
"Grizzly is a fast learner. For example, I can say 'classroom,' and he'll go straight to the class, or 'kennel,' and he'll go straight under my desk. When the bell rings, he goes into his crate," Mr. Gilbert said.
He credits the St. Pius administration for allowing him to have his service dog on campus for all of these years. 
"I kept hearing and seeing people with dogs as emotional support animals, so I talked to Mr. Spellman and he thought it was a good idea. It worked out really well, and I got Grizzly in May of 2015," he explained. "That was when I could hold him in my lap during class, which was one of my favorite things."
Stevie Ray 
Like Mrs. Matullo and Mr. Gilbert, senior Liz Pentecost relies on her Golden Retriever Stevie Ray, who assists her while she navigates society in a wheelchair.
"Stevie Ray has quite a few jobs. One of his main jobs is to pick up things on the ground when I drop them because I have a hard time reaching them. He does a lot of things at home like taking dirty clothes to the laundry room. In the mornings, I have a towel on the back of my chair and he pulls it over to my bed whenever I'm ready to get out. Plus, he carries things for me," Pentecost explained.
"My life without him was more difficult," she continued. "If I dropped anything, someone else would have to come in and help me pick it up. My mom, dad or brother would have to bring my chair to me in the morning, and I was completely dependent on others."
Stevie's day-to-day service doesn't just make Petecost's surroundings more accessible. The additional support also makes it possible for her to live more self-sufficiently in the future.
"I will take him to college for sure, but I am taking a gap semester for my surgery. I'll be starting in January of 2021, and I'm deciding between either the University of Illinois at Urbana-Champaign or the University of Alabama, both for basketball," Pentecost added.
Their family acquired Stevie Ray through a nonprofit that matches service dogs to people with physical disabilities. His original owner named him after a firefighter who died in the line of duty, but Pentecost quipped that blues fans often assume he's named after the rockstar Stevie Ray Vaughan, whom she knew nothing about.
To prepare for his role, the purebred Golden Retriever was in training for two years but wasn't immediately ready to join his owner at school.
"
My favorite thing about having Stevie Ray is the love he gives and how much he loves serving me. He's with me all day, so it's weird when we aren't together. He's an extra friend and my best friend. That's what service dogs are: best friends."
— Senior Liz Pentecost
According to Pentecost, it took several months for Stevie Ray to "transition from his old owner" before he began recognizing her authority. In the meantime, the Pentecosts had to keep him at home instead of going to school.
"My dad had to let her out during his lunch at work to let him out," Pentecost explained. "It was more difficult for our family, but he's been much better recently."
While Stevie Ray has stolen a fair share of cheeseburgers, sandwiches, and pizza slices from students in the cafeteria, he now spends his lunch period in a kennel during her lunch period. Towards the end of the period, Pentecost's younger brother, junior Will Pentecost, takes him out for a quick walk.
However, most of his antics are pretty comical. Take her first basketball practice in a league that is accessible to athletes in wheelchairs, for example.
"The first time, my mom was having a really hard time controlling him because he had never been before, and he was running around doing practice on the court trying to get the basketball. He wanted to play with us," she recalled.
Despite the occasional inconvenience posed by bringing along a rather playful 100-pound animal each day, Stevie Ray's cheerful disposition and innate kindness have been a bright spot since the onset of their friendship.
"The first time he came over, I was sitting up in my bed. My entire family, the owner, and the trainer were in the room waiting. When he arrived, he immediately ran to me, jumped into the bed, and started licking my legs. It was the cutest thing ever and makes my mom cry every time I talk about it," Pentecost laughed.
And Mrs. Matullo and Mr. Gilbert certainly agree.