Sophomore brings math honor society to St. Pius X
Katie Graebner and math teacher Ms. Bowman establish SPX chapter of Mu Alpha Theta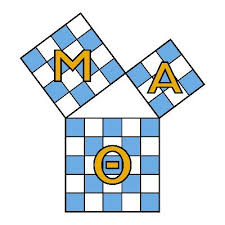 Many St. Pius X students have passions, but sophomore Katie Graebner took hers to the next level. This year, Graebner brought her love for math to life and founded St. Pius' first mathematics honor society, Mu Alpha Theta, with the help of her mathematics teacher Ms. Lesley Bowman. 
According to the Mu Alpha Theta website, Dr. Richard V. Andree founded the honor society as "an organization dedicated to promoting scholarship in mathematics and establishing math as an integral part of high school and junior college education."
In founding Mu Alpha Theta at St. Pius, Graebner fully supports this mission. 
"The purpose [of Mu Alpha Theta] is to recognize academic achievement in math and to foster a deeper love of math," Graebner explained. 
"I wanted to bring Mu Alpha Theta to Pius because I love math and want to share my love of math with others. I hoped that Mu Alpha Theta would show people that math can be fun," she added. "I also wanted to gain additional opportunities to take national math exams, and I desired to recognize people for their hard work and academic excellence in math."
Ms. Bowman agreed.

"It's an honor society, a chance for kids to play more with math, and a chance to do more good in the world," she said. 
Behind the scenes, Ms. Bowman and Graebner worked tediously to found the honor society, sort out the qualifications for members, put together an agenda for the year and plan the induction ceremony. 
"Ms. Bowman helped me a lot in the process of establishing Mu Alpha Theta. She agreed to sponsor it, and she got permission from the administration. She worked with the math department to put together a list of eligible students, and she sent a petition to Mu Alpha Theta to ask to start a chapter at Pius," Graebner explained. "I am very grateful for all of her support and encouragement. I could not have started Mu Alpha Theta without her."
Their hard work and dedication culminated in their first-ever induction ceremony on Thursday, March 12 at St. Pius as they recognized 121 fresh faces as members of the prestigious honor society.  
"The induction ceremony was very rewarding to me because I got to see many students happy about being recognized for their hard work and achievements in math. I also observed parents who were proud of their children, and I loved seeing everything come together," Graebner said. 
New Mu Alpha Theta members also felt very excited and proud to be a part of the honor society. 
"I'm so honored to be a part of Mu Alpha Theta," senior Anna Buyarski said. "Even though the seniors can't participate in events due to the COVID-19 pandemic, I am excited to wear my stole at graduation."
Agreeing with Buyarski, senior Caroline Hollensbe voiced praise for the ceremony and creation of Mu Alpha Theta. 
"The induction ceremony was fantastic!" Hollensbe exclaimed. "It was very organized and they obviously worked hard to perfect it. I'm so happy Pius now has an honor society for mathematics."
Graebner's classmates also recognized her strong work ethic and character. 
"Katie is such a joy to work with!" Buyarski exclaimed. "Not only is she a genius but she is an amazing person."
Graebner said that Mu Alpha Theta means much more than a strong foundation in mathematics. 
"To me, Mu Alpha Theta represents achieving a goal," she explained. "In the fall, I approached Ms. Bowman about starting Mu Alpha Theta. When I first asked her to be the sponsor, neither of us had any idea how much work it would be to bring a chapter of Mu Alpha Theta to Pius. We each spent many hours working to start the chapter, and each hour brought us closer to our goal."
Graebner and Ms. Bowman both have plans for a bright future for Mu Alpha Theta. 
"I'd like to see more kids be more interested and involved in doing math. I want to make this a fun and rewarding pathway to that goal," Mrs. Bowman said. 
"Next year, I hope that Mu Alpha Theta will provide multiple service opportunities to members as well as offer math tutoring to the Pius community," Graebner added. "Additionally, I would like to see Math Club membership increase, and I want members of Mu Alpha Theta to participate in math competitions such as the AMC [American Mathematics Competitions]. I also plan to establish leadership roles in the organization."