USWNT suffers setback in equal pay lawsuit against USSF
A federal judge recently ruled that the women didn't prove discrimination under the Equal Pay Act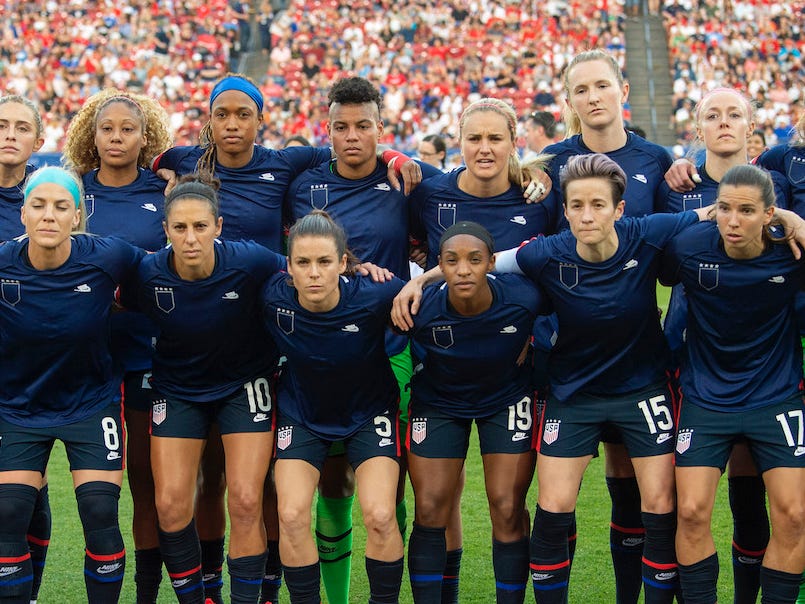 The US Women's National Soccer Team is a powerhouse, winning World Cups in 1991 and 1999, Olympic gold medals in 1996, 2004, 2008, and 2012, as well as holding the FIFA's number 1 rank in the world for the past 5 years. 
Famous players that have left their legacies on the team include Mia Hamm, Abby Wambach, Hope Solo, and Carli Lloyd, as they continue to inspire millions of young soccer players. 
Despite their success, the women's team still lags behind the men's team in terms of pay and working conditions, and in March 2019 they sued the U.S. Soccer Federation for "institutionalized gender discrimination" and are seeking $66 million in damages for violating the Equal Pay Act and Title VII of the Civil Rights Act of 1964.
World Cup star and USWNT captain Megan Rapinoe stated it's time for action and that, "we won't accept anything less than equal pay."
But their legal battle suffered a setback on Friday, May 1 when a federal judge dismissed a portion of the lawsuit and ruled that they were not underpaid compared to the men's national team because the women negotiated their own contract in their most recent collective bargaining agreement in 2017. 
In his 32-page judgement, judge Gary Klausener of the United States District Court for the Central District of California stated that the women did not prove discrimination under the Equal Pay Act, noting that the women played more games and made more money than the men's team.
He also said the women were offered the chance to have the same pay structure as the men, but they rejected that option in their 2017 collective bargaining agreement. 
"Plaintiffs cannot now retroactively deem their CBA worse than the [men's national team] CBA by reference to what they would have made had they been paid under the MNT's pay-to-play terms structure when they themselves rejected such a structure," said in his summary judgement. 
"
We have learned that there are tremendous obstacles to change; we know that it takes bravery and courage and perseverance to stand up to them. We will appeal and press on."
In other words, the women's team negotiated the terms of their contract and can't go back now and ask for more money. 
In a letter sent to the New York Times, Molly Levinson, a spokesperson for the players, stated,  "We are shocked and disappointed with today's decision, but we will not give up our hard work for equal pay. We are confident in our case and steadfast in our commitment to ensuring that girls and women who play this sport will not be valued as lesser just because of their gender.
"We have learned that there are tremendous obstacles to change; we know that it takes bravery and courage and perseverance to stand up to them. We will appeal and press on."
Their claims that portions of the Civil Rights Act were violated, however, will still move forward, as the players contend that the USWNT faces discrimination in travel hotel accommodations, medical support, and training services. The trial is set for June 16 in Los Angeles.
According to the federal lawsuit, between 2013 and 2016 the women's national team earned a maximum of $4,950 per non-tournament game that they won, while the men's team earned an average of $13,166. 
They also pointed to the glaring discrepancy in success between the men's and women's programs.
For example, in the last two World Cups for both programs, the women won back-to-back titles in 2015 and 2019, whereas the men advanced to the Round of 16 in 2014 and failed to qualify for the tournament in 2018.
The legal battle has gone back and forth for over a year now, but the lawsuit was back in the media spotlight last month when a motion filed by USSF stated it's "indisputable science" that men are stronger and faster than women, and the men' job as a national team player "requires a higher level of skill based on speed and strength than does the job of [a women's national team player.]"
Those comments received heavy backlash, including public statements condemning the motion. from USSF sponsors such as Coca-Cola, Nike, and Budweiser.
The players themselves expressed disapproval while competing in a game against Japan by wearing their practice jerseys inside out to cover up the USSF logo. They went on to win the match 3-1.
"I think it just was a powerful message, without having to really send a message," said Carli Lloyd, who is one of the most decorated players in the history of the program. "Like I said, we don't want to be in this position, but we're here and it's just got to be better." 
USSF President Carlos Cordeiro later issued an apology that read, in part, "On behalf of U.S. Soccer, I sincerely apologize for the offense and pain caused by language in this week's court filing, which did not reflect the values of our Federation or our tremendous admiration of the Women's National Team," and he stepped down from his position the very next day on March 12. 
Cindy Parlow Cone was named as the interim president until next year when there will be an election for the next president at the U.S. Soccer Annual General Meeting. Parlow Cone most recently served as the USSF Vice President, and she had a decorated career as a player for the USWNT from 1996 to 2004. She won a World Cup title in 1999 and two Olympic gold medals in 1996 and 2004. She also coached the Portland Thorns to a championship in 2013 in the inaugural season of the National Women's Soccer League. 
Both the USMNT and the USSF will head to court next month for the next step of the lawsuit that has now garnered global attention.