Longtime theology teacher Mr. Dennis Ruggiero joins varsity boys basketball coaching staff
"I consider myself to be blessed to be a part of this team."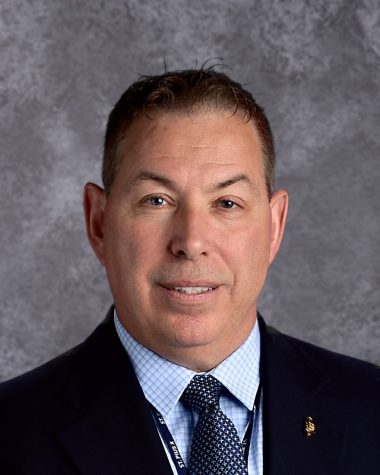 In addition to new underclassmen on the varsity boys basketball team, this season also features a fresh face on the coaching staff, theology teacher Mr. Dennis Ruggiero. 
Mr. Ruggiero has taught at St. Pius X since 1994, and he's had experience coaching football and hockey as well as serving as the strength and conditioning coach for a few years. For decades, students have associated him with energy and enthusiasm in the classroom, and that's what he delivers on the basketball court as well.
"His pregame speeches never get old and continue to pump me up every time," senior point guard Brookes Kahlert said.
An avid sports fan who is passionate about the Pittsburgh Steelers and Miami Hurricanes, Mr. Ruggiero never thought about coaching basketball until head coach Aaron Parr approached him last year.
"I decided to take him up on his offer because it would give me a chance to do something I have never done before," Mr. Ruggiero said.
Although he grew up playing his "two loves" football and basketball, he's never coached the latter.
"Playing basketball and coaching basketball are two different things," he said.
He's still learning the ropes a bit, but Mr. Ruggiero said he's not concerned with his basketball IQ at the moment.
"I see myself as having a certain role [as a motivational and spiritual leader] on the coaching staff, and that is what Coach Parr told me as well," Mr. Ruggiero explained.
The team is currently 13-2 and plays Martin Luther King High School on the road this Friday at 7:30pm, where Mr. Ruggiero will be on the bench with his fellow coaches and players
"I enjoy the opportunity to be part of a tradition of excellence," Mr. Ruggiero said, "and I consider myself to be blessed to be a part of this team."