Fine Arts Department hosts Spring Arts Festival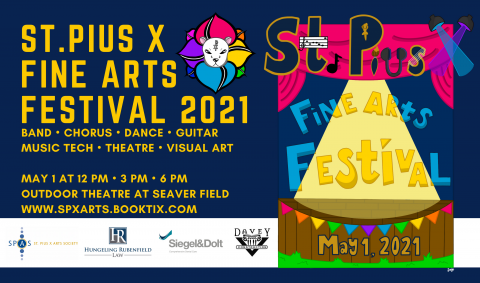 The Spring Arts Festival is right around the corner, taking place this Saturday, May 1 at 12pm, 3pm, and 6pm. The festival is a completely new event and is intended to make up for the performances lost to Covid-19 earlier this year. However, if you were intending on going to the event, you may want to think twice.
The festival is only open to family members due Covid concerns, and each showtime has a limit of 300 people, leaving most student performers with only 1-2 tickets to give to a family member. 
"I'm frustrated my friends can't support me in my creative endeavors," said sophomore Parker Scott.
Despite the crowd limitations, the Fine Arts Department has been working hard and planning for months to put on a great show for everyone in attendance. 
"You have to think about the little things," Fine Arts Department Chair Mr. Brion Kennedy said. "Changing rooms, parking, everything."
In addition to contributions from faculty, the St. Pius Arts Association is volunteering to help make the festival run as smoothly as possible, including assisting students and cleaning up between festivals. 
Students themselves have also been honing their skills for this performance, with many classes beginning work at the start of this semester. 
"We've been working on our individual pieces since halfway through last semester," said junior Bianca Cardona, a dance student. 
Junior dancer Ana Pichanick added, "We've been working after school mostly because of our FTV students. We even choreographed the whole thing."
In addition to musical and staged performances, there will also be an art gallery from visual arts students in a variety of mediums, such as drawing, painting, and sculpting. Sophomore Quinn Voss's "Lovebirds" is featured in the gallery, which is a piece years in the making. 
"I started it freshman year and then took a break and finished it this year," Voss said. "It won the Principal's Award [at the Juried Arts Exhibition], and it's all pen."
Despite how Covid affected the Fine Arts program this year, students, faculty, and volunteers have worked hard to make the best out of the opportunities they were given. While most students at St. Pius X will not be able to attend the festival, the dedication and work put into this festival will not go unnoticed.