New football video game gains popularity with its simple graphics and play style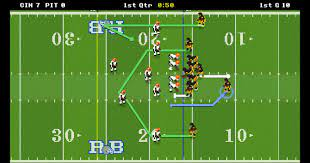 The popular football video game "Retro Bowl" is taking the St. Pius X student body by storm. The addictive game is easy to play and features old school graphics similar to Tecmo Bowl, which was released in the prime of the 80's. Players control the offense of a team, act as a general manager, and have the opportunity to manage a professional football team, along with the ability to face real life situations including injuries and morality issues has grabbed the attention of almost every male at St. Pius.  
Junior Jack Geeslin has been playing for about two months and was one of the first people at St. Pius to hear of the game.
"One of the greatest aspects of the game is how easy it is to constantly enjoy the addictive gameplay," Geeslin said. "The progression and being able to have better players makes it addicting and I probably play for an hour or two per day. I manage the Buffalo Bills currently."
Geeslin manages to play about a season per week and averages around two hours of Retro Bowl in that time. He has made multiple accounts to achieve a total of 4 retro bowl wins.
Many people have begun to get sucked into their seasons and are averaging about a Retro Bowl, which is the championship and final game of the season, a week. Geeslin will continue to play the game until he has achieved at least 10 Retro Bowls and plans on "winning another one today."
Senior Ryan Sowell also wants to earn as many Retro Bowl wins as possible. He has been playing for about two weeks after being introduced by Sophomore Hampton Gilliland.
"He was playing [Retro Bowl] in the passenger seat of my car," Sowell said. "I thought it looked stupid, but everyone was playing it so I decided to try it." Sowell was quickly hooked on all of the aspects of the game and was eager to win. "I like how the game is pretty short and you can control all parts of it," Sowell said. "You can manage the players and salary." 
The addictive game has proven multiple times why it is worth the hype — from it's easy play-style to its management capabilities, it is simple to see why the game is sweeping the student body.