Saving the 7
Local American Legion tries to re-build after fire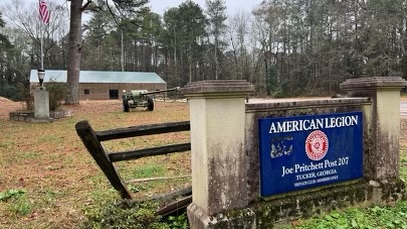 For most people, January 2023 means the start of a new year. 
But for thousands of veterans, it represents the last chance to save their community. 
When a fire burned down Tucker's American Legion Post 207 in 2019, 3000 veterans lost their second home. Spread all across the United States, American Legion Posts provide proper nutrition, mentorship, job training, and so much more to veterans. These posts are crucial to protecting the mental and physical health of the brave men and women that protected us.
That's why former Marine Scott Brady decided he wanted to try something crazy. His plan – to fundraise half a million dollars to "Save the 7". 
It's not an easy road forward. Construction has been delayed because of new ordinance requirements, and the global pandemic certainly hasn't helped move things along. Without adequate funding, the post faces foreclosure in January 2023. 
This looming threat, combined with the fact that 44 veterans commit suicide every day, made Brady feel like "saving the seven was saving veterans." 
"They all have one common thing," Brady explained. "They love the country enough to sign a piece of paper saying they'd die for it." 
He believes there's a lot of misconceptions and stereotypes about veterans, that people will assume a veteran has specific views, that they've been kicked around the country like some kind of political football. 
"The best way to break down barriers is through communication and building relationships," Brady said. "The legion will be a resource not only for the veterans, but for the community. There's a lot of opportunity here." 
If all goes well, the newly opened Post 207 will host an outdoor gym, community garden, barbeque pit, and plans to run service projects such as food drives and provide respite care. That's a lot of impact that one post can have, taking into consideration that 1 in 20 people in the Lilburn, Tucker, and Stone Mountain area are veterans. 
The three pillars of "Save the 7" are Rescue, Restore, and Repay. Restoring the Legion to its best condition, and repaying the veterans for what they've sacrificed is one part of it. As for Rescue, 'Never leave a man behind' is the Marine way of putting it. 
Many veterans don't adapt well to life after service, especially those who were deployed in combat. Brady finished his first year of active duty training while the First Gulf War was already wrapping up, but Marine training gave him a glimpse of what an actual combat situation would be like.  
  "Imagine your best friend standing beside you and seeing them take a bullet in the head." Brady said. "Imagine trying to go back to the regular world of people after that, people telling you to get your coffee at Starbucks and just go on as if nothing happened." 
It's no easy adjustment, attempting to shift back from that world to civilian life. 
Rebuilding the Post will be a challenging task, but Brady said he, alongside post commander Anthony Mathis, has already raised enough money to pay the initial construction costs. From there, it's a matter of persistence, determination, and a whole lot of grit. 
"Veterans need a mission," Brady said. 
Maybe for him, saving the 7 is his mission.