Fine Arts Department to host outdoor festival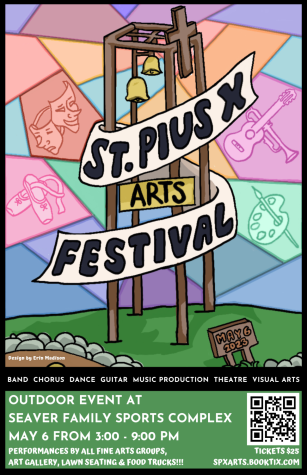 St. Pius X will host a Fine Arts Festival on Saturday, May 6 from 3:00 – 9:00 pm at the Seaver Family Sports Complex. The afternoon and evening will feature performances and displays from all Fine Arts programs as well as several food trucks and a King of Pops cart.
"It's a really cool opportunity to play in a real life environment like Music Midtown," said Director of Bands and Fine Arts Department Chair Mr. Ian LaBreck.
The band and percussion programs will be performing several songs, including the Ray Charles classic "Georgia on My Mind" featuring vocals from senior Omeno Abutu.
Dancers from almost every level including Dance Company and the Dance Team will perform a few pieces from the Spring Dance Concert in March, but the main event will be a 12-minute medley of Prince's greatest hits.
Visual arts students will have some of their original work on display throughout the day. Senior AP Studio Art students Quinn Voss and Lily Perella will also take the stage to showcase some of their pieces and discuss them in more detail.
Members of the Advanced Theatre Company will perform a one act version of "A Midsummer Night's Dream, and Music Production II will play a mash-up of original songs they've produced in class.
The chorus program will perform songs from their spring concert, Age to Age, which explored time, new beginnings, and eternal truths. The guitar program will close out the night with performances from all classes, including Beginner, Intermediate, and Advanced Guitar.
"I'm excited for everybody to see how much fun it is to put on an event like that," said Mr. LaBreck.
The event is open to the public, and tickets can be purchased at spxarts.booktix.com.