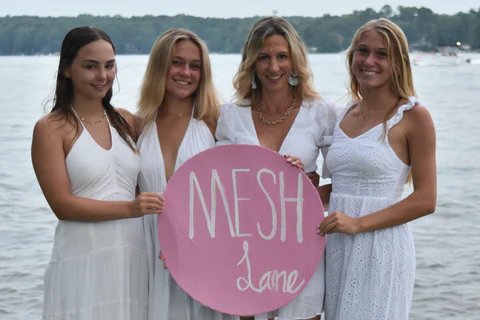 Girls, have you ever wanted cute clothes and fast? Well, juniors Ella and Savannah Stone have the solution for you! Their new online boutique, MESH lane, launched on Sunday, August 20th, and has all your game day shopping needs.
The site offers a variety of clothing styles and accessories, such as earrings, bracelets, and necklaces. Along with their assortment of jewelry, MESH lane also features many dresses, rompers, shirts, and skirts. They even have game day Georgia, Clemson, and Auburn attire, such as headbands, earrings, and bag straps. 
"We're mainly trying to target towards preppy clothing for high school and college students, but moms can also buy there too." said Savannah.
After touring college towns in the Southeast, the girls realized there wasn't anything similar for them in Atlanta, so they decided to make a boutique full of good quality, low-cost clothing. One day, they hope to have a physical shop.
The Stone sisters started this business with their stepsister Harper and stepmother Michelle. In fact, that was how the shop got its name. MESH is the first letter of all of their names meshed together! 
"It's a lot of fun to start a boutique with your family." Savannah said, "And it's been really exciting to see our friends and people at Pius who have wanted to buy from us, so I just can't wait to see what's next!"
There are even perks for St. Pius students! If you order online and select Pius Pickup, one of the twins will bring your order to you the next day. 
So go shop to your heart's content because, according to Savannah, "We're all big shopaholics."