Colts fans receive backlash for how they handled news of Andrew Luck's retirement, but were they justified?
September 22, 2019
Indianapolis Colts quarterback Andrew Luck shocked the sports world on Saturday, August 24 when he announced he was retiring from football. In a very emotional press conference, the former standout at Stanford and seven-year NFL veteran cited his long history of injuries as the reason for his decision, stating that the rehab process left him "mentally exhausted." The media leaked the news before Luck had a chance to make his official announcement, and the timing of his decision–just two weeks before the start of the regular season–angered many Colts fans. As he stood on the sidelines of a preseason game against the Bears,  Lucas Oil Stadium in Indianapolis stadium erupted in a chorus of boos from fans as word spread about his retirement. Were the fans justified in their reaction to the unfortunate news?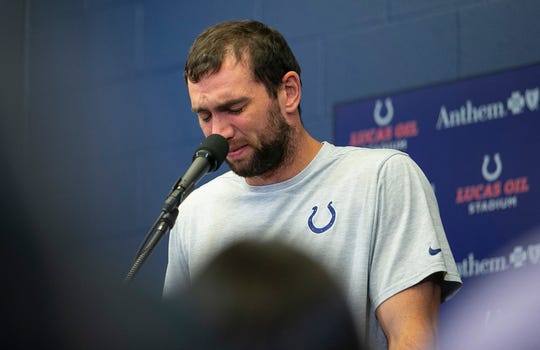 Photo courtesy of the Indianapolis Star
Colts fans were wrong to boo Andrew Luck
Athletes are people too. They hurt and they cry just like us; however, sports fans have a tendency to act as if they should get the final word on how far athletes should push themselves. 
The Indianapolis Colts quarterback of seven consecutive years, Andrew Luck, recently announced his retirement from the NFL. Luck has endured multiple injuries that have threatened his mental and physical wellbeing, the most recent being an ankle injury that would keep him off the field for at least the first few weeks of the 2019 season. 
Luck's plan to retire was leaked during the Colts vs Bears preseason game, and it resulted in fans horrendously booing him off the field as he stood on the sidelines. Some believe that this reaction was justified due to his timing, but Luck has shown his dedication to his team; he practically risked his life by continuing to play. If anything, this retirement is long overdue.
A teary-eyed Luck officially announced his retirement at a press conference on Saturday, August 24, following the game, saying that this was "the hardest decision of his life." 
After torn cartilage in two ribs, a partially torn abdomen, a lacerated kidney, a torn labrum in his throwing shoulder, a torn calf, and at least one concussion, it only makes sense to retire. But season after season, despite his many injuries, Luck still came back for more. 
During the prime of his career, Luck said he wanted to be "the best quarterback I can be for the Colts, and hope that it's good enough." 
Well, Luck certainly made a good effort to reach that goal; most would say that he even exceeded it. 
What one has to keep in mind is that Luck isn't just thinking of himself and the money anymore. He isn't the same athlete or man as he was during his time at Stanford. He's not playing to make a name for himself because now he's made one. 
Additionally, Luck is an expectant father, so it's more than understandable that he'd want to put his physical and especially his mental health first so that he can be there for his family.
It's not the fact that fans booed him, it's the fact that they think they deserve a true say in what athletes choose to do for their physical and mental well-being. Given that Luck is walking away from approximately $58 million and is seemingly at the top of his career, the average person may find Luck crazy for retiring as early as he did; however, it's not up to the average person or the biggest Colts megafan there is, it's up to Luck himself.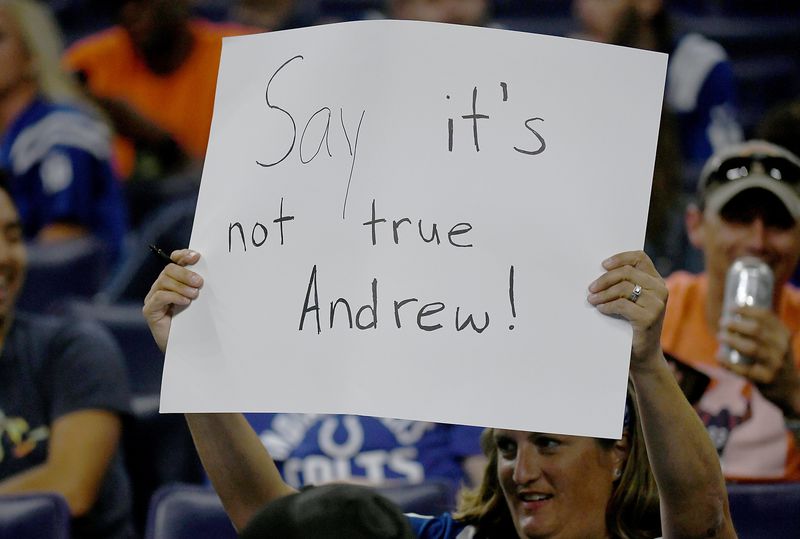 Photo courtesy of NY Daily News
Andrew luck deserved to be booed off the field
Professional athletes retire all the time. When well-known and accomplished athletes decide to hang up their uniforms for good, the fan base usually shows great respect and gratitude for the player. When lesser-known athletes retire, the fans usually shrug their shoulders and sweep it under the rug. But what happens when the retirement angers the fans? 
The news that Indianapolis Colts quarterback Andrew Luck was retiring leaked during the Colts vs Bears preseason game, prompting Colts fans to boo the 29-year-old quarterback off the field. 
Luck later explained in a press conference that he was retiring because he was "mentally exhausted" from constant rehab that was prompted by a long list injuries throughout his career. 
For a man who takes hits from 300-pound defensive linemen, you'd expect a thicker skin, but according to Luck, he said hearing the fans boo him "hurt, I'll be honest, it hurt." 
Football players across the league rose up in support of Luck's surprising decision to retire and condemned the fans for their actions.
But were the fans justified? Absolutely! 
Put yourself in the shoes of a Colts fan for a moment. You finally have a team that could make a legitimate run to the Super Bowl after years of poorly timed injuries. You're supporting your team in a preseason game against the Bears just two weeks before the start of the regular season when you see the notification on your phone that Andrew Luck, the biggest star on your team, is retiring. 
You watch your quarterback, whom you have supported for seven years through all of his struggles, walk off the field. In a moment of frustration and raw emotion, you boo him.
Those critical of the fans' reaction miss why they're outraged. It's not that Luck decided to retire from football; it's the timing of his decision to retire. 
Two weeks before the season begins is not an acceptable time to call it quits. Luck left the most important position on the team, setting the Colts back on their heels. You can't tell me that Luck wasn't pondering retirement when he said during the offseason to the media that the Colts were going to make a strong Super Bowl run. If Luck wanted to retire, he should have done it at any point before July to give the Colts enough time to find a replacement. 
Senior Jake Newman agreed. "Luck should have retired at the end of last season to give the Colts time to find a new quarterback. He left the Colts hanging by retiring when he did," he said. 
Many try to justify Luck quitting football so suddenly by mentioning his injuries. Although he's had his fair share of medical issues, including a shoulder injury that caused him to miss the entire 2017 season, every player in the NFL suffers injuries, many far worse than Luck's hurt shoulder, and yet they are still able to make it on the field. For example, Pittsburgh Steelers linebacker Ryan Shazier, who was temporarily paralyzed after a hard hit during a game in 2017, has said he is working every day for a chance to play football again. 
"Everyone is feeling bad for Andrew Luck like he is a martyr, but what martyr gets paid over $97 million," senior Harrison Wood said.
Luck can't ignore what his decision to retire will do to his team and the city. For example, the Colts odds to win the Super Bowl dropped from 12:1 all the way to 60:1, according to CBS Sports. 
The Colts will probably not make the playoffs for at least the next two or three seasons after starting the preseason as a Super Bowl favorite. Luck can handle 15 seconds of booing.