Senior swimmer competes at Junior Nationals
Tulane commit Riley Hendrix showcased her swimming talent on a national stage at Stanford University this summer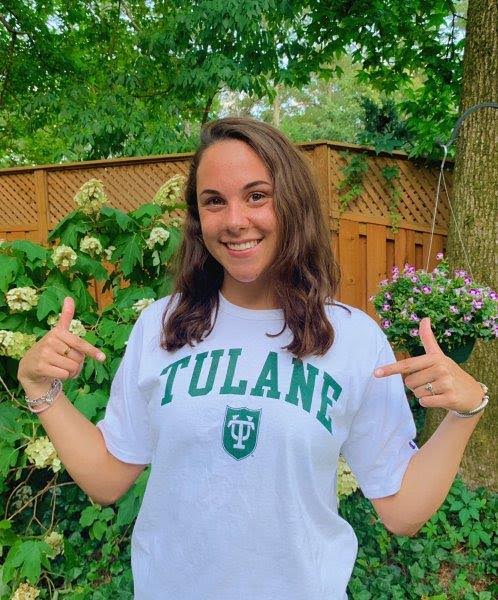 Senior Riley Hendrix tried an Olympic array of events before settling on swimming: softball, soccer, tennis and cornhole (probably a sport), just to name a few. She finally decided on swimming since it was the only sport she "didn't lose right away," and now her passion has earned her an athletic scholarship to Tulane next year.
Hendrix began club swimming at age 13 with no swimming lineage. Her father and mother played football and soccer respectively, and she said they've instilled a sports culture in their household.
As with all student-athletes, her commitment to swimming isn't without costs. For the past five years, she has sacrificed most of her summer, weekends and even class time to train and compete. She described it as "all-consuming," which seems fair given that she practices from every day after school and in the morning before school three times a week.
And that's just during the school year. Over this past summer, for example, she spent 172 hours swimming, which included training at Dynamo twice a day every Monday through Saturday.
"Every time I went out with friends, I made sure to get to bed on time for practice, I made sure to not get sick or injured, I limited my time in the sun, I missed out on family trips to stay and train, I lived to achieve my goal," she explained.
All of this work paid off when she qualified for Junior Nationals this summer and spent five days at Stanford University competing with some of the best swimmers in the country.
 "Going to Junior Nationals was the most fun experience of my life," she said. "The stakes were high, I was surrounded by my teammates at a beautiful pool, and my family was able to watch me race on live TV!"
Besides her pure love of the sport, what motivates her to spend so much time in a pool?
"COLLEGE!" she replied.
Colleges began reaching out to her in the beginning of junior year, and they didn't stop giving her offers until she committed to Tulane in June. She already had an impressive repertoire of achievements going into senior year, including two national qualifying times and a school record in the 100-meter backstroke, and getting national exposure at Stanford for Junior Nationals didn't hurt her chances, either.
"My parents and I came up with a new goal: to use swimming to get into a college that I probably couldn't get into on my own academic merit," she said.
Georgetown and Miami University in Ohio made her list, "But finding a good swimming program, a coach that understands individual needs, and a campus that I feel can tailor to my needs is very hard. It was only when I took my visit to Tulane, after only three phone calls, [that] I realized I loved it," Hendrix said.
It may be hard to believe that the 10th highest-rated backstroke swimmer in Georgia was ever unsure about her swimming future, but she admits she was concerned about her ability to compete at a national level at one point. 
"I was just worried because sometimes [swimming] doesn't go past high school," Hendrix explained.
All of her worries about where she's headed seem to be gone now, as she trains for her final high school season and enjoys a formal commitment to a Division-1 school.