Senior finds love in a hopeless place
Grant Sasser opens up about his crossfit addiction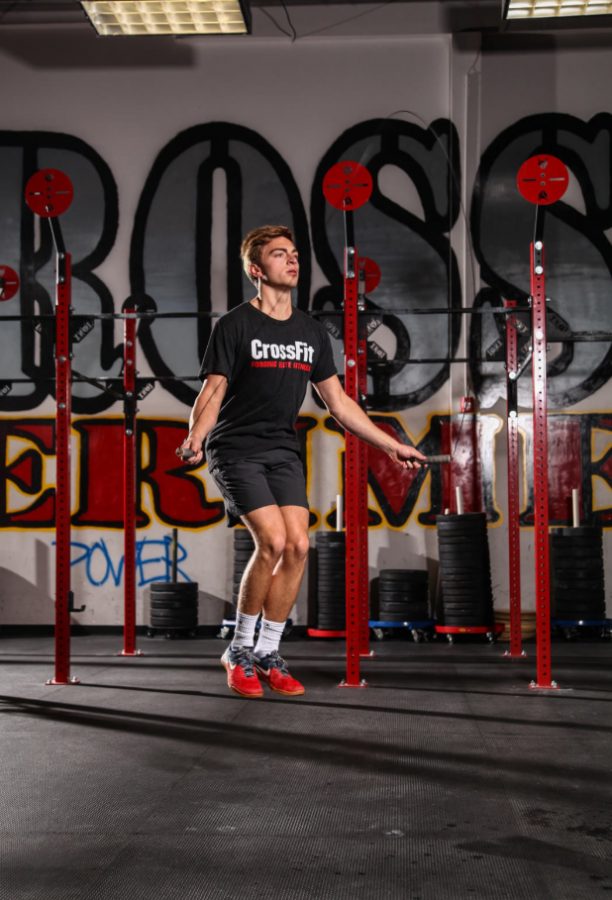 Since its creation in 2000, the fitness company and workout program CrossFit has gathered over 15,000 loyal followers including, including senior Grant Sasser.
After his sophomore football season ended, Sasser needed a way to stay in shape. With a Crossfit gym close to his house and a one-week free trial, Sasser decided to try it.
"I wasn't really feeling it at the start. I was much fatter so it was much harder," he joked.
"It is nice to see the changes that all my hard work goes toward. In competitions, I always know that I'm successful when I've beaten previous records. In other sports, your performance feels much less clear cut," Sasser added.
There are many skeptics, however, myself included.
"Come try it first. Don't judge a book by its cover," Sasser said.
Now, after almost two years of continually staying on the grind, Sasser is a coach and personal trainer for kids all throughout grade school.
"I get paid to yell at little kids, what's not to like? Haha, I'm kidding." He said. "It's fun to teach what I have learned, as I was once one of those kids. Also, most of them are there involuntarily so I try to make them enjoy it and look forward to coming."
In between coaching jobs and competitions, he trains almost two hours a day with and without partners. During the summertime, Sasser spends up to five hours in the gym, as what was once just a workout routine workout has evolved into a passion.
"My favorite workout is a 'hero workout.' They are workouts that honor a deceased war veteran. It involves a lot of heavy lifting and grunting," stated Sasser. "The number of reps has to do with their dog tag or birthday, so it is specific to that soldier. It's really hard, but there's a motivation involved that many athletes find inspiring and unique."
Some workouts test Sasser's strength and determination, demanding hours of continuous strain on your body. Sounds fun right?
"The worst is definitely the 'Murph workout.' It's a mile run, 100 pull-ups, 200 push-ups, 300 air squats, then another mile run and it is all for time," he said, punctuating his words with a groan. "It's tough. I want to quit sometimes when I'm working out, but I'm motivated to get better and to get that spring break bod."
Now, Sasser competes and trains with the best. As an 18-year-old, he's in the adult category, so he butts heads with fully grown 30-year-olds all trying to outlift and outrun each other.
Going to Ole Miss next fall, Sasser has begun his search for gyms in Oxford, Mississippi where he hopes to continue physical fitness in college and adulthood.