Fall sports seasons well underway
What to expect from the most unusual seasons the Golden Lions have ever experienced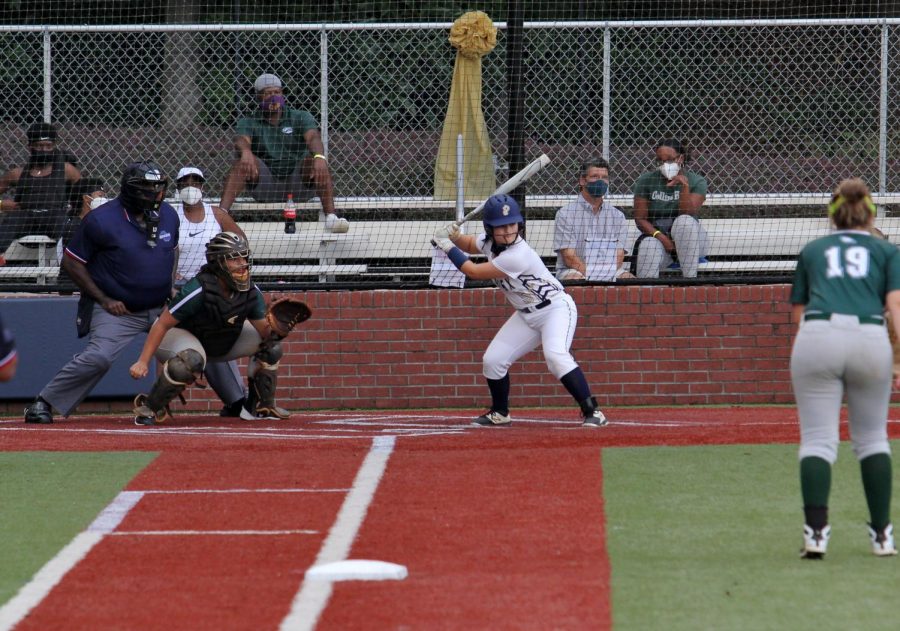 Like many professional sports teams around the world, St. Pius X athletics are officially underway. Coaches and athletes are dealing with strict Covid regulations that affect practices and games, but most teams have been able to carry on with their seasons with limited disruptions to their schedules. Seniors Jack Parker, Mary Brady  Lindsey Broadway, Kathryn Hedenquist and junior Emma Farrell share how their seasons are going so far and what to expect this fall.
Senior Jack Parker (Football)
How has Covid impacted the football team as of now?
Parker: It has complicated the football season on multiple occasions, two times this season I personally have been quarantined and not been able to play. It's a tough pill to swallow but we have all come together and are ready for whatever happens!
As you know we have been put in a new region. Which teams are we looking forward to playing?
Parker: We circled Decatur on the schedule this season because we have played them and know many of the players outside of school. They also have been hyping the game up and talking a lot of smack. It should be a fun one.
What are your goals and the team's goals for the season?
Parker: Our goals are to win the region and compete for the state title. My personal goals are to have 13 interceptions and score 50 touchdowns. I am really looking forward to showing people what I can do! Shout Out the O-line!
Who do you think is going to be the "x-factor" for the season?
Parker: [Seniors] Dennis O'Shea and Walker Stevens are the captains of both sides of the ball and we rely on their leadership to win games. We trust them in critical situations so they will be looked at this year as our leaders. Once again I am very talented so I believe that I will carry the offense all season with help.
Senior Mary Brady (Cross Country)
What are your goals this year and the team goals?
Brady: My goal is to individually win state and run under 17:30 for the 5k. My team's goal is to win state.
Many seniors graduated last year who have stepped up and become a leader?
Brady: Even though we lost a lot of great seniors from last year, some of my teammates really stepped it up. Catherine Breault definitely keeps us organized and focused. Elizabeth and Cala have made dramatic improvements that are a great contribution to our team's score. 
What race are you most excited for this season?
Brady: I am most excited for state and a post-season race called the Southeastern Championship in Alabama.
Senior Lindsey Broadway (Softball)
You just won the region championship, how does that feel and is it even more satisfying because of Covid?
Broadway: Winning the region championship is really exciting, and we have all worked very hard to win this year. The last time that we won the region championship was in 2009, which makes the win even better. COVID-19 definitely added some difficulties, but I think that the team handled it really well. Despite these challenges, we were still able to get the win. 
Which underclassmen have shown their talent this year and who do you see having a breakout year?
Broadway: A freshman, Nina Parker, really showed out this year. She plays left field and bats second. As a freshman, she has definitely stepped up and is a great addition to the team. 
It's your senior year, what differences have you seen because of Covid in terms of preparing for the season?
Broadway: The main difference to me is the social distancing protocol. We have lots of traditions that involve huddles, high fives, etc. We were not able to do many of these activities due to COVID-19, but the team thought of new ideas and pre-game rituals that I really enjoy. 
Senior Kathryn Hedenquist (Competition Cheer) 
Competition Cheer has not yet begun the official season, what event are you looking forward to competing in?
Hedenquist: State because it is a two-day, two-night trip where we do lots of fun things and it is the most exciting competition.
How has Covid impacted preparation for the upcoming season?
Hedenquist: We couldn't practice over summer and when practice did start when school started we couldn't stunt which is the main part of the routine. We had our season pushed back until November due to that so now we are back on track. We wear our masks the entire practice, even during the full routine.
What are the goals that you have for this season and what is the team's goal?
Hedenquist: For me personally I want to successfully hit every first stunt in competition. And for the team I want us to make mat at state, which is just the top 6 teams out of everyone goes down to the mat and it is basically like you won. It has never been done in Pius history but last year we got seventh, so this year we can do it.
Junior Emma Farrell (Volleyball)
Emma, you had a very successful season this year, advancing all the way to the semifinals of the state playoffs. What was the most memorable math you played in?
Farrell: The most memorable match was definitely the last one. It was fun to play our last match with our seniors and even though we lost, it was definitely the best we have ever played as a team.
You repeated as region champs once again, what do you think was different about this team?
Farrell: The difference with this team is that there are a lot of returning girls this year, meaning we have been playing on the team together for three years. This helped from the beginning, because everyone was used to playing with each other which meant we didn't have to spend much time on building chemistry.
As these weird sports seasons come to an end over the next few months, we'll continue to keep an eye on the Golden Lions and look forward to a collection of accolades and trophies from what is turning out to be yet another successful fall sports season at St. Pius.