OPINION: The most anticipated albums of 2022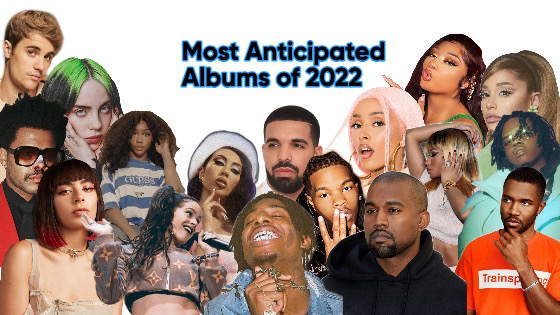 2021 will go down as a great year for music. The world got great albums from established rappers like Kanye West's "Donda" or Tyler, the Creator's "Call Me If You Get Lost," breakout albums from young stars like Olivia Rodrigo's "Sour" and Baby Keem's "Melodic Blue," not to mention the genre breaking work this year from Playboi Carti's "Whole Lotta Red.'
The music selection was great, but 2022 shows even more promise. Typically, it takes a few months for mainstream artists to announce and release albums in a new year, but 2022 doesn't fit that stereotype. 
This year, we expect the usual album drops from perennial stars like Lil Baby or Kanye West but we'll also get the rare releases from quieter artists such as Frank Ocean or Kendrick Lamar.
For the year 2022, this is our list of the most anticipated albums that are ready to shake up the industry.
Charli XCX
Charli XCX had a great year in terms of artistic growth and development. She's recognized by her early 2010's hits like "I Love It" with Icona Pop and "Boom Clap". During that time period, Charli was commercializing her brand and becoming an ordinary pop star who lacked identity and diversity. Because of this, Charli started losing demand and there weren't many who truly cared about her career. Her mainstream stardom was fading. 
That was until she released her intricate and unique EP, "Vroom Vroom" in 2016. After this project was released, Charli started gaining a stable and dedicated fanbase. What Charli didn't know was that she created a genre that would soon become vital in pop music, Hyperpop.
Charli's latest project "how i'm feeling now" saw her expand on her unique hyperpop sound. Pitchfork gave the album a 7.7, and it was critically acclaimed. The album went on to debut and peak at #111 on the Billboard Hot 200.
On November 4, 2021, Charli XCX announced her fifth studio album, "CRASH" that'll be released on March 18. According to Charli, the album is going to be "POPTASTIC", and following her genre-bending Hyperpop era in 2020, she has fans excited for her new project. 
Charli has released three lead singles from the album, "Good Ones," "New Shapes" featuring Christine and the Queens and Caroline Polachek, and "Beg For You" featuring the amazing and talented Rina Sawayama. 
The only unreleased snippet of the album was a song called "Baby." She teased the track on an Instagram live and not even a week later, the music video was teased on Tik Tok. We still don't know exactly when "Baby" will come out, but Charli has alluded to the song being released very soon.
The direction of Charli's album isn't apparent, but it is safe to expect absolute greatness and top tier quality from the British singer.
Kali Uchis
Colombian singer, Kali Uchis is the latest and greatest act to come onto the scene. With lively and enjoyable productions and soothing vocals, Kali is the blueprint for what it means to be a Latin American popstar.
Kali Uchis was launched into mainstream when her Latin-pop album "Sin Miedo (Del Amor y Otros Demonios)" was released in 2020. Though initially the album failed to chart, 2021 saw a new light for Kali. She has been very transparent about the release of this album, saying that her label didn't want her to release it. Despite this, she still had a fantastic 2021 with the help of her breakout hit "Telepatia" charting at #25 on The Billboard Hot 100 and the album went on to peak at #52. 
Due to this, Kali now has a high demand for her next era of music, and fans are excited to see what she has in store.
Mixing 'Spang-lish' into her music is genius, because she reaches out to two different audiences to support her music. Her fanbase is super loyal, as seen when voting her to win the American Music Awards category for "Favorite Song- Latin".
Kali has shown her versatility singing multiple genres and still sounds stunning. She mixes jazz-like inflections, which captivates listeners immensely. Her past projects have been critically acclaimed due to her soft and intricate voice as well as her unique beats.
"I think she has one of the best voices in the industry currently, and 'Melting' is one of my favorite songs at the moment." sophomore Amelia Dowdy said. 
In regards to her next project, Kali tweeted on January 11, "Finishing my album and minding my business," implying the album is close to being done. She also teased a song on Instagram recently which made fans go into a spiral! It seemed to be a chilled back R&B track, which could potentially be the direction of her next project. 
In addition to her solo music, Kali Uchis is known due to her exposure through Tyler, the Creator on popular songs "After the Storm" and "See You Again" and Gorillaz on "She's my Collar." Other artist's features on her albums have always been top tier. There are no ideas as to who exactly will feature on her upcoming album, but it's safe to say, whatever features she has will help the album immensely!
SZA
SZA has been teasing her second full length project for a while, and fans have been speculating when the album will finally drop. 
It would make sense to release an album in 2022, due to her super high demand from the top five hit, "Kiss Me More" with Doja Cat, and her top 10 single "Good Days" peaking at #9. SZA's latest single "I Hate U," is her highest charting solo single, peaking at #7. This is due to the song going viral on Tik Tok with more than 1 million people using this  sound. 
We still have no clue what the album will consist of, or what the album title is. While fans have been begging for SZA to drop her second album, they have also helped SZA with creating her music video accompanying her single "I Hate U."
Prior to releasing "I Hate U," SZA collaborated with Kali Uchis on the remixed version of "Fue Mejor" which originally featured PARTYNEXTDOOR. This is SZA's first-ever Spanish song, which makes her an even more promising act as she is reaching for a bigger following to her already big fanbase.
SZA's 2017 Grammy nominated debut album "Ctrl", was given a 8.4 on Pitchfork, and is recognized as one of the best debuts of all time. The only songs to chart off of the album were "The Weekend" and "Love Galore" which features rapper Travis Scott. Both songs debuted and peaked inside the top 50, spending around 20-25 weeks on the chart before falling off. Despite these being the only charting songs, "Ctrl" debuted and peaked at #3 on the Billboard 200. The album went on to chart for 239 weeks! That is absolutely incredible and sets the tone for SZA's future.
Kendrick Lamar
Kendrick Lamar has not released a solo album since 2017, and the last project he released was part of the Black Panther soundtrack in 2018. Ever since, he's been quiet.
Kendrick made a brief return from his silence on his cousin, Baby Keem's, song "Family Ties," and he did not disappoint. He excited fans with new flows and reignited hope for a potential album. His return will be met with even more excitement as he is set to perform at half time during Super Bowl LVI.
Kendrick is viewed as one of the best rappers of all time. His 2012 "good kid, M.A.A.D. city" launched him into the mainstream with hits like "Swimming Pools" and "Money Trees," and his 2015 album is regarded as the best of all time in the rap community.
This next album will be Kendrick's last album with his label TDE. There is no bad blood between the two and Kendrick has been an integral piece to the label's success.
Kendrick always has had freedom with his music and says he's been experimenting with a new sound that pushes the boundaries of what rap is, so expect his next release, that we hope is coming this year, to be some of his best work.
Playboi Carti
Playboi Carti took over in 2021 with his album "Whole Lotta Red." He wrapped up the year with his King Vamp tour and teased a new project titled "Narcissist."
Carti has one of the most polarizing sounds in the trap scene. He meshes together the melodic elements of trap, the energy and grit of punk, and his iconic bouncy flow. This combination of sound has basically created a new genre of rap and will go down as one of the most influential albums of all time.
The next step for Carti is to continue in this new direction with his upcoming project set to release. No one knows exactly where he will go as all of his albums have a different sound, but expect it to be revolutionary.
Frank Ocean
Expect new Frank Ocean music. He is lined up to perform at Coachella in 2023, indicating a new project to come between now and spring 2023.
The last time Frank dropped an album he shook the world. He was tangled in a messy contract with his label and had to release one more album until he was free from this contract. His highly anticipated second studio album Endless came out in August 2016, four years after the critically acclaimed album "Channel Orange." "Endless" was a visual album, and the day after Frank dropped his fan favorite "Blonde." 
Frank is free to work at his own pace now, and he has done exactly that. "Blonde" will turn six this year and it's been two years since he has released any singles. He seemed to be on track to release some sort of project with singles "DHL" and "In My Room," but that came to a halt after his brother Ryan's death. 
All in all, Frank is a perfectionist when it comes to music so it will probably be more beneficial to the album that he's taking his time with this. Either way, if fans get any type of music this year they'll be happy, and after the critical acclaim of "Channel Orange" and "Blonde", the expectations for the next one are high.