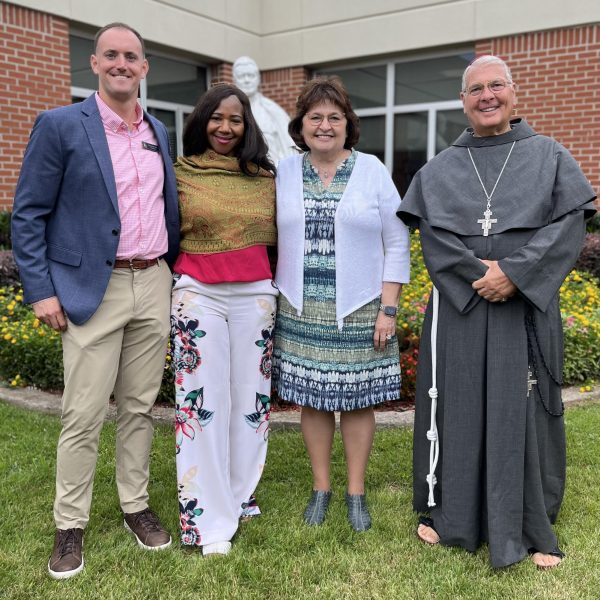 On Tuesday, September 5, Archbishop Gregory Hartmayer and Superintendent Diane Starkovich visited St. Pius X and celebrated the Mass of the Holy Spirit with our school community. All three Archdiocesan high schools celebrated Mass at the same time on their respective campuses with a bishop from the diocese and a representative from the Office of Catholic Schools. Bishop Ned Shlesinger and Associate Superintendent Julie Broom visited Blessed Trinity, and Bishop Joel Konzen and Associate Superintendent Karen Vogtner went to St. Mary' Academy.
This is the first time the Catholic high schools have been involved in a joint Mass like this. The idea was inspired by the National Eucharistic Revival, a three-year nationwide initiative that kicked off in 2022 that aims to inspire, educate, and unite the faithful in a more intimate relationship with Jesus in the Eucharist, according to its website.
Director of Campus Ministry Ms. Susan Baker described the Eucharistic Revival as, "a focus on reviving people's love, passion, and knowledge of the Eucharist." 
Ms. Baker also said that the diocese wants to make the Mass of the Holy Spirit an annual event to increase connectivity with each school. 
"It [the Mass] is about recognizing that we're all united as Catholics through the Eucharist and through the Holy Spirit," she said. Archbishop Hartmayer also brought with him a first class relic from Blessed Carlo Acutis. As Archbishop Hartmayer explained in his homily, Acutis was a gamer and computer programmer who built a website cataloging and promoting Eucharistic miracles. He died from leukemia in 2006 at the age of 15, and he is the patron of our junior class. The relic is on loan to us in our chapel through the end of the week.