Freshman or celebrity chef?
Ethan Jackson shares his experience on the Food Network TV show "Chopped Jr."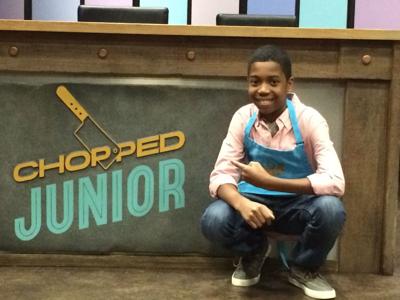 If you've never watched the Food Network TV show "Chopped Jr.," it's basically "Lord of the Flies" meets Paula Deen. A group of preteens faces off against one another in a spectacular three-course meal with otherworldly ingredients in an epic battle royale. Even if you have seen the show, you probably never knew that freshman Ethan Jackson was on it in 2016, fighting for his life against other competitors while frying a pig's ear.
Cool as a cucumber, he has the perfect personality for the spotlight. It goes without saying that national television might put the fear of God into anyone, let alone a middle schooler, but Jackson said that when filming the show, he "was actually really relaxed… [and] wasn't really worried about it."
While still a student at Christ the King, Food Network flew Jackson and the other kid chefs to New York City to tape the episode.
"We surprisingly taped the show in 12 hours and came back and did interviews in 6 hours and flew home the same day," Jackson explained. "If you're cut [from the competition], you go straight to interviews and have to comment about how it when after, but because I made it to the last round I was on the show for longer."
He added that "The experience of interviews and cooking under that kind of pressure was hard but really fun."
Jackson cooked several unique meals for the panel of judges, including food critic Katie Lee, actor Alan Thicke, chef Chris Santos, and cookbook writer Ted Allen Jackson. His dishes included fried pig ear strips served over a hash and ostrich steaks with asparagus and truffles.
In addition to cooking with only a limited menu of ingredients, another challenge for Jackson was time management. Competitors had 20 minutes to prepare an appetizer, and 30 minutes each to make an entree and then a dessert.
"I really had to keep my eye on the time. It was really important that I have everything on the plate and that I have time to make it look good. So that was definitely a challenge," he said.
Advancing to the final round, Jackson ended up placing second in the competition.
"I actually went on CNN after, and I did an event for charity after," Jackson said. "I went [on CNN] for one morning on Father's Day. It was just a little quick segment of 'Weekend Express' with Lynn Smith. It was really a lot of fun. I just showed her how to make a Greek omelet, which is an omelet that has spinach and calamari."
Jackson attributes much of his success to his mother, who introduced him to cooking at a young age.
"I started cooking when I was 5. I started cooking because I could eat it, that was pretty much the main reason. I would just cook because I was hungry. And it was fun because I could experiment with different foods," he said.
Outside of cooking, Jackson said he enjoys "hanging out with friends and playing soccer mainly. I also like to travel so I take every opportunity I can to do that."
He also hopes to continue cooking in the future at home, with or without TV cameras.