The next Asia Durr?
Junior Cal Petersen is a rising star on the basketball court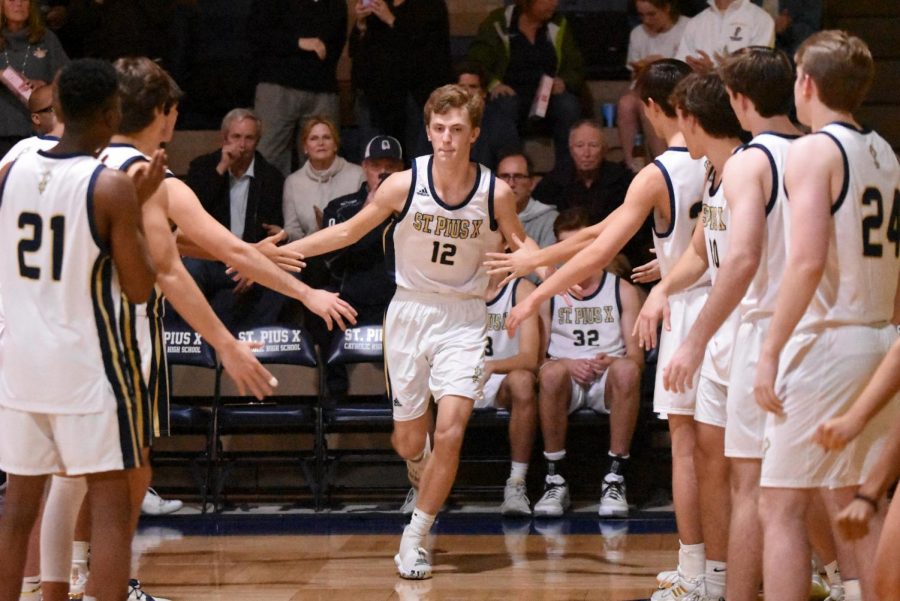 Only a junior at St. Pius X, Cal Petersen is already one of the leading scorers on the St. Pius X varsity basketball team. Their current record is 18-6 with their final regular season game tonight at Madison County. Averaging 14 points a game and standing at an impressive 6'4", Petersen took a moment out of his busy schedule to answer some highly anticipated questions, relaying his passion for the sport that has made him indispensable to the team.
Who has been your biggest inspiration since your hoop dream journey began? 
Lebron James, 'cause he's on the telly and he's better than Michael Jordan.
How has the selfless style in which the team plays influenced your approach to the game? 
It helps me to be less hoggish and look for the open man. I'm used to the isolation game, but after being called to share the rock, I realized that all my brothers deserve a seat at the table.
How long ago did you start basketball? 
9 years ago in second-grade lunch.
What does a basketball smell like?
Bush's® Baked Beans and tears.
How do you feel when you make a three-point shot?
I don't feel, just hustle back on D.
What do you do if you're in a shooting slump?
Keep my confidence and continue the flicking of the wrist.
Do you play basketball outside of Pius?
I play AAU for team MTXE, and when I'm feeling froggy, I'll carry a Top-Notch team to a quick dub.
What was your highest scoring game this season?
It was against Oconee County [January 7], where I dropped 24 points on their head.
What do you hope to improve upon this season as an individual and as a team?
As an individual, my defense, and as a team, our love of the craft. SPX is known for its hard-on-ball defense, and I believe that in order to take it to the next level, my trap game needs to be perfected.
Why did you start playing basketball?
Basketball runs deep in my family. My dad played club ball while attending the University of Missouri, and my brother was always hitting me with the drop step when we played one on one. I guess it was always in my life from a young age, so when I finally had the opportunity to play, it just felt right.
Do you want to play in college? 
I'm not too sure. I would sure like to strut my stuff on the big stage but if that meant giving up study time, I don't think I could go for it. Although if the opportunity presented itself, I would drop everything to live out my hoop dream.
What is your dream school to play at?
Duke. Coach K seems like a sweetheart.
What is your biggest asset to the team?
Probably my stroke. It mimics that of an egret's neck along with the ability to make my teammates focus on the task at hand, and that's winning. If there is anything I truly bring to the table, it's my drive and fervor to secure the bag and eat the chip.