Why are there so many bald people in my class?
As a football tradition, sophomore players get their heads shaved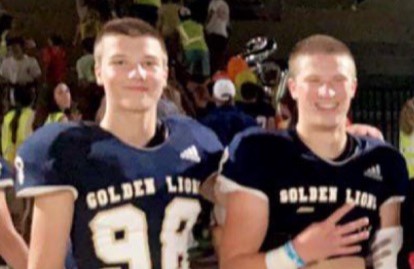 A new football season brings Friday night lights, a chance at the playoffs, and a new batch of shaved heads. This is a tradition that started years ago, where sophomore players choose a senior teammate to take a razor to their hair.
"I heard about it when I was a seventh grader," said sophomore quarterback Colin Crosby, who has been looking forward to it ever since.
He chose senior quarterback Will Moreman, "a great leader, and mentor," to give him his new haircut. Crosby said that there is now a stronger bond between the two because, "a bunch of laughs and giggles are exchanged and friendships are made."
Junior linebacker Alex Romano has a full head of hair now, but this time last year he too, had a shaved head, courtesy of Jack Kandilakis '22.
"So first of all I'd like to say that my pre-cut [the funny haircut the seniors give you before the full shave] was pretty cool," Romano said, who described it as a "grandpa cut". This means the top is shaved while hair is still on the sides. 
Romano agreed with Crosby that the tradition offers more than just a chance to laugh, "It does create that team bond," Romano explained.
So even if the shaved heads may look funny, it helps the players create memories with each other and build a great team bond for the season.